Garmin Vivoactive 4 Review | Best Fitness Smartwatch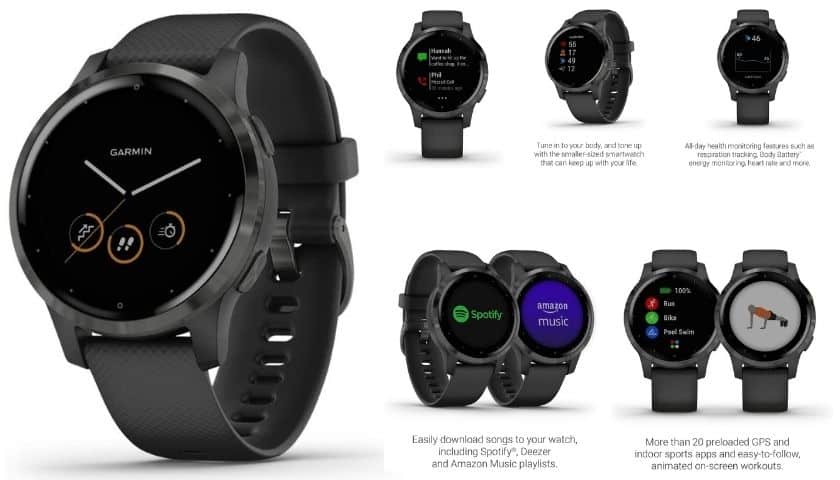 As an Amazon Associate, I earn from qualifying purchases.
Garmin Vivoactive 4 is an ideal wearable for those who desire a tech-smart wearable but don't want to spend a high price. Vivoactive 4 is a perfect mid-range smartwatch that offers more than basic active trackers within your budget. As usual, Garmin watches are rich in necessary features, so as is the Vivoactive 4.
Garmin's fitness featured watch is favorable for both athletes and the common person. It is a great point that the watch is much cheaper than other flagship smartwatches. Check out this Garmin Vivoactive 4 review to know more about this timepiece.
Garmin Vivoactive 4 Smartwatch In-Depth Review
Garmin increases its lineup with awesome smartwatches that are something for everyone. This Vivoactive 4 is designed focusing fitness and health-conscious people. It is one of the best health and fitness trackers.
Garmin Vivoactive 4 Specifications
Watch size: 1.78 x 1.78 x 0.5 (LxWxH) inches
Weight: 36 g
Screen Size: 1.3 inches
Screen Resolution: 260 x 260
Compatible devices: Android Smartphones
Battery life: 8 days and 6 hours with GPS mode
Watch material: Stainless steel
Band Material: Silicone
Garmin Vivoactive 4
13 new from $279.00
9 used from $159.00
Free shipping
as of November 28, 2023 2:13 pm
Design
Vivoactive 4 looks identical to its predecessor Vivoactive 3. But there is a major difference in the size of the Vivoactive 4. This watch is available in two sizes: 40mm and 45mm whereas Vivoactive 3 only offers a 43mm size. Two different sizes are appealing to a wide variety of people because they find a perfect size for both small and wide wrists.
The smartwatch is made with durable materials to support extreme conditions. It has stainless steel bezels that look smart and stylish. The silicon band has a nice texture, comfortable yet durable enough. This light and slim watch, you can wear all day long. The watch has a 5 ATM water-resistant rating that means it can withstand a depth of 50 meters.
Display
This smartwatch includes a 1.3-inch touchscreen with 260 x 260 resolution. This is a transflective MIP screen that ensures a clearer view under sunlight. You can quickly read the watch without any difficulty, so it is the best outdoor tracking watch. There is Always On display mode so that you don't need to worry about flicking your wrist to see the in mid-run.
The LCD touchscreen is responsive for quick navigation. However, there are two additional side buttons to operate the watch. The upper button acts as a shortcut for preferred training and also works as a start and stop button. It accomplishes a really good job when you don't want to touch the display with your sweaty fingers to pause your workout.
The lower button works like a back button that is very handy to switch between apps. Moreover, a long press of this button takes you to see watch faces, clocks, activity history, and settings menu.
Garmin Connect App
For setting and customizing the Vivoactive 4, you need to download the Garmin Connect app and create an account. Then connect the watch with your Android smartphone via Bluetooth. The watch is compatible with Android phones so Apple won't run it.
The apps help you to customize the watch and allow you to set your training goals like floor climb, steps, or intensity minutes. You can customize the weather widget to see the current temperatures and forecasts.
There is a separate app named Connect IQ that is the App store of the Vivoactive 4. You can get many apps here like Find my car, maps, watch faces, widgets, and so on.
Fitness Features
Vivoactive 4 features solid tracking features that are essential in every way in your life. There are pre-loaded exercises that can activate with the upper side button. However, Vivoactive 4 is a useful gadget that prefers workouts. We like the on-screen guided animations for yoga, pilates, and cardio. So you can see each pose modeled to your watch and see their name. You can also make your own yoga and pilates workouts using the Connect App.
Garmin Coach
You can set up your training plan with the Garmin coach based on your provided information. You can schedule a Benchmark Run and strat tracking. You can see your stats, distance, pace, steps, time, and map of your route. However, you can customize training plans for a 5k, 10K, half marathon.
This smartwatch comes with a GPS tracking facility. It takes less than 30 seconds, sometimes 10 seconds to get a GPS signal. Afterward, you can see your routes and check coaching running plans.
Health Tracking Features
Garmin watches are now your personal health companion. You can effectively track your heart rate, a pulse oximeter of blood oxygen, hydrated levels, and sleeping time. After turning the OX sensor, you can see the SpO2 reading every morning. Moreover, the watch also shows saturation levels that tell you when you need to hydrate again.
You can calculate your sleeping time with the smartwatch. It tells how much time you have deep and light sleep that is very functional. Well, this health information is not 100% precise to use for diagnosing purposes but this information is almost accurate for motivating you.
Other Features
Vivoactive 4 is an all-rounder smartwatch. You can get notifications on your watch after paring with your smartphones. You can see the email, SMS, and alerts on your watch and respond to your text messages.
Vivoactive 4 comes with onboard music storage so that you can hear your favorite tune without paying premium edition. Spotify gives music services where you can download playlists to the watch. You can listen to music anywhere without a connection with your phone.
You can make payment through your watch. It is a techy wireless payment solution like other premium smartwatches. But this feature is not available in many countries. Users of the US and UK will get supports from a bunch of important banks.
There is fall detection in this watch. If the watch detects any fall, it will send real-time location to emergency contacts and seeking for help.
Battery life
Garmin claims Vivoactive 4 can provide 8 days of battery life with standard tracking. To get this battery life, you can not use GPS. however, with the usage of GPS, the watch provide up to 6 hours of battery life with music and 18 hours without music.
This battery life is sufficient for real-world use. A plug-in charger comes with the smartwatch. It needs one hour to charge from zero to full.
Pros
Slim, light, and smart design
Bright and clear display
Preloaded exercise animations
Effective health tracking reading
Extended battery life
Accurate GPS tracking
A great choice for runners or athletes
Cons
Needs multiple phone apps to navigate
HR scanner needs to improve
Read Related Post: Garmin Vivoactive 3 Review
Frequently Asked Questions (FAQs)
Is Garmin VIvoactive 4 worth it?
Vivoactive 4 is the best fitness smartwatch at this price point. You can track your every movement via this watch. You can coach your exercise, monitor your heart rate, sleeping time, oxygen level, and so on. Moreover, the long battery life is a plus point. So it is worth your money.
How accurate is Vivoactive 4?
Vivoactive 4 has GPS and other sensors that precisely track movement. Well, the reading is not 100% accurate and not eligible for medical purposes. But GPS maps are accurate.
How much does Vivoactive's battery last?
Vivoactive 4 battery lasts for 8 days without GPS tracking. If you use GPS then it will go up to 6 hours with music streaming and 18 hours with music streaming. The battery life is really exceptional for this segment.
Read Next: Garmin Instinct Solar Review
Final Words
Garmin Vivoactive 4 is the best smartwatch for runners or fitness-loving people. This watch provides excellent health and fitness features that are very impressive at this price point. You can get premium functions at less price. So this watch will be a worthwhile investment.
As an Amazon Associate, I earn from qualifying purchases.