10 Best Smartwatches for iPhone | Review with Buying Guide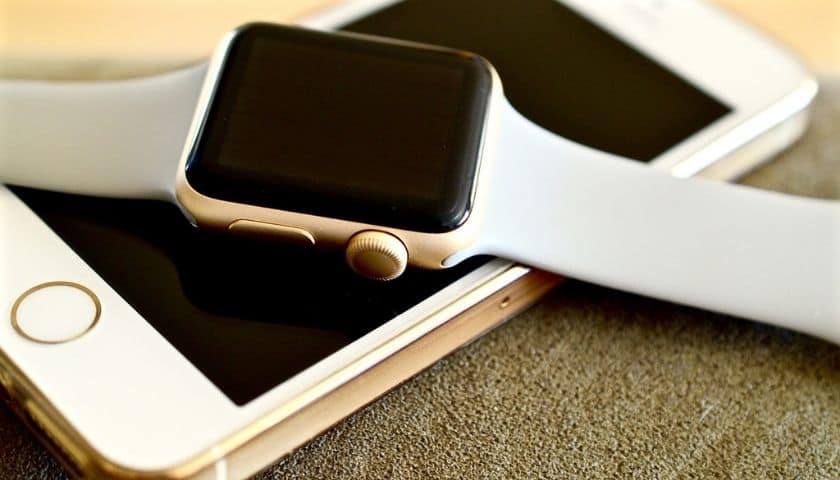 As an Amazon Associate, I earn from qualifying purchases.
An apple watch is the best option to go in terms of a smartwatch for iOS. However, due to the limitations of the design and the relatively expensive, many do not want to go with the Apple Watch.
Fortunately, in addition to the Apple Watch, there are many other smartwatches from reputed and reliable brands that are compatible with the iPhone. Here we will discuss the 10 best smartwatches for iPhone that will be the best choice for iPhone users.
10 Best smartwatches for iPhone
Here is a list and review of the top 10 smartwatches for iPhone users that will not disappoint you with their features and performance.
Our top picks: At a glance
Best Apple Watch Ever: Apple Watch Series 6
Best Budget Apple watch: Apple Watch SE
Best for Accuracy: Apple Watch Series 3
Best for Functionality: SAMSUNG Galaxy Watch Active 2
Best for Battery Life: SAMSUNG Galaxy Watch 3
Best for Durability: Fitbit Versa 2
Best Fashionable Smartwatch: TicWatch Pro 3
Best Value for Money: Garmin Venu 2S
Best Fitness Tracker: Garmin Vivoactive 4
Best for Comfortability: Fitbit Ionic Watch
Best smartwatches for iPhone
1. Best Apple Watch Ever: Apple Watch Series 6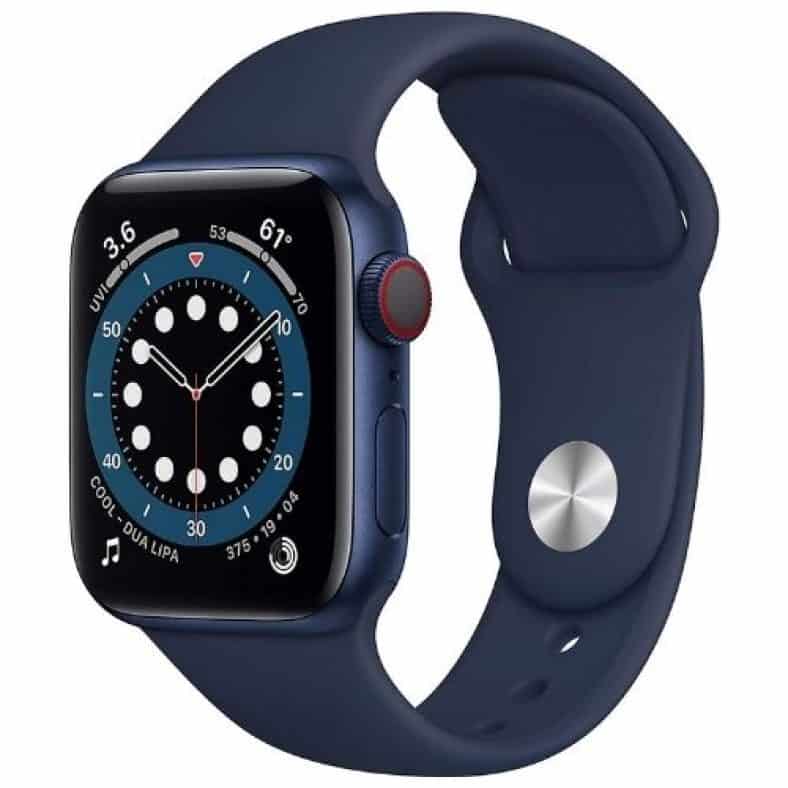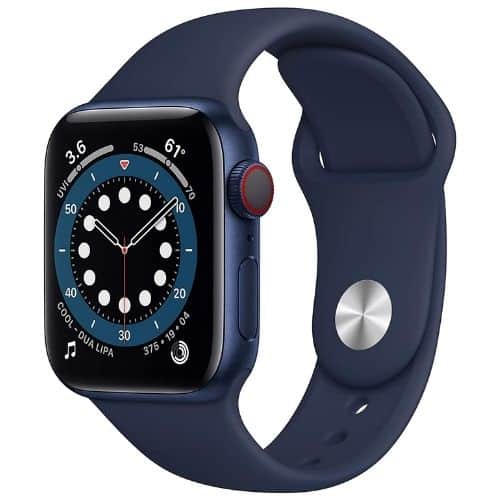 Apple watches are considered to be one of the best and unique devices in the world of smartwatches. The most modern and latest smartwatch in Apple is the Apple Watch Series 6. This is the most delicate watch you can purchase, with an unrivaled user experience, excellent applications, and possibly life-saving fitness and health capabilities.
Excellent Design
This watch, which belongs to the 6 series, is designed in the traditional style of Apple. It has a fabulous and fashionable appearance. This means that it also comes with a square-shaped casing of which two variants are available, 40 mm and 44 mm. There are two variants based on materials- stainless steel and titanium. No matter what materials you choose, the watch will be very comfortable.
Always-On Altimeter
Apple has introduced an always-on mode that allows you to see the time at a glance. This function will enable you to monitor your elevation both inside and outside in real-time. Hikers, as well as downhill skiers, will appreciate this feature. This Apple Watch 6's screen is much brighter inside.
WatchOS 7 Operating System
This smartwatch features WatchOS 7 system, the latest and upgraded operating system for the apple watch. Multifunctional Strength Training, Conditioning Workouts, and Cooling Down activity monitoring have been added in this WatchOS 7 update. Other noteworthy improvements include a hand-washing schedule, mobility statistics, and watch face sharing.
Blood oxygen monitoring
The oxygen saturation readings on the Watch Series 6 were among the most intriguing additions. Users may measure SpO2 levels with the new Blood Oxygenation app. We were trying this very often at first. It was fascinating to watch how our stats varied depending on the time of day and other variables.
Other Functionalities
The series 6 watch is one of the best smartwatches by Apple that includes several handy functionalities. This watch comes with an ECG app that will help you to monitor your heart rhythm. Its GPS + Cellular functionality allows you to make a phone call as well as text without a phone. Included Fitness app will help you to monitor daily activity.
Pros
It features an always-on brighter display
Measures the amount of oxygen in the blood
Super-fast and powerful watch processor
Cons
The battery life of this watch is only 10 hours
2. Best Budget Apple watch: Apple Watch SE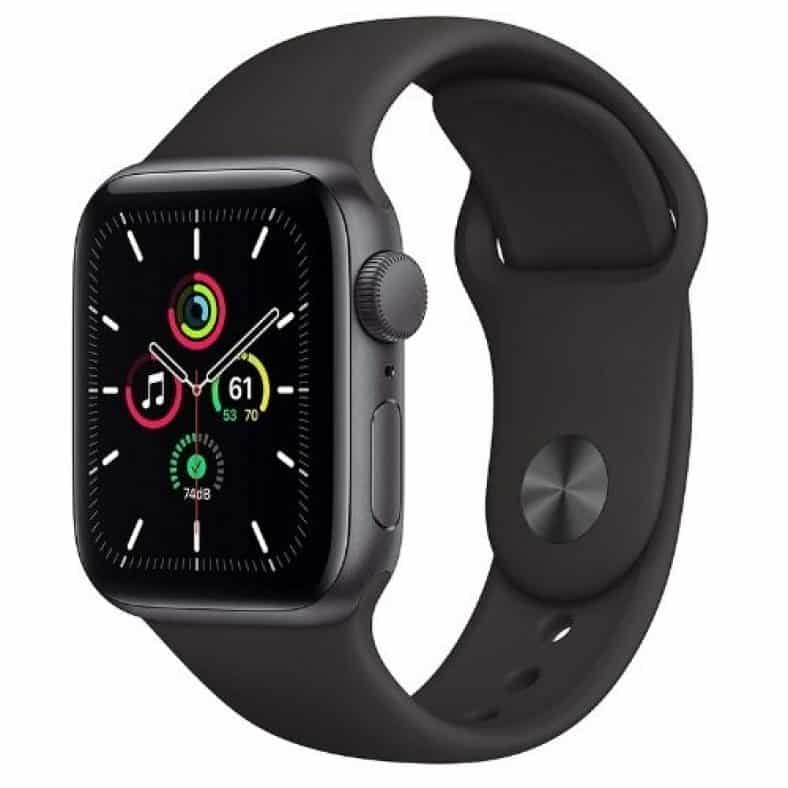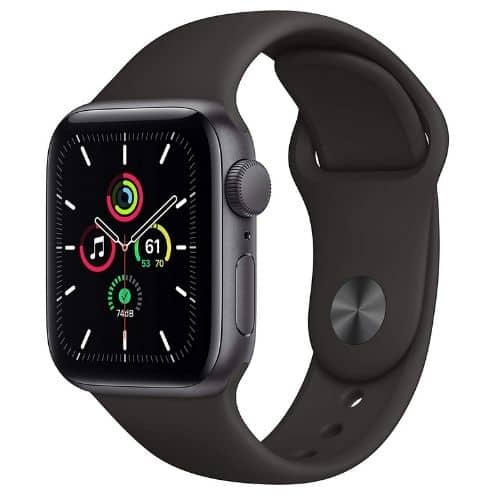 The Apple Watch SE is an almost identical but affordable Apple smartwatch launched with the Series 6. It has all of the capabilities of the series 6 but at a lower price, making it among the finest watches on the market. This watch has several handy features that make it one of the best smartwatches for iPhone users.
Conventional Design
The design of the Watch SE has not seen much innovation. Its design follows the traditional style of the Apple Smartwatch. The rounded edges, curved aluminum casing, and side-mounted Integrated Crown are all the same. It's sapphire as well as ceramic on the rear, in which it contacts the wrist, so it's as pleasant and hypoallergenic as it gets. The watch is available in 2 casing forms; A size of 40 mm would be perfect for a relatively small wrist and 44 mm for a medium and large wrist.
OLED Display
This smartwatch utilizes OLED display technology like the rest of the Watch line. However, it does not bring an Always-On display like Series 5 or Series 6. While this is a downside, it will make your watch's battery last longer. When you're dazzled by the sun's beams, it's perfectly OK to attempt to tell the time.
Operating and Battery
WatchOS 7 is the operating system of this timepiece. This is the latest operating version for Apple Watch that comes with more functional features. The Watch SE offers excellent battery life. The company claims that you'll get approximately 18 hours of 'all-day' battery capacity, but you'll get a lot more.
Health & Fitness
The Watch SE's Health & Fitness features are most likely the main reason you'll purchase it. Apple has indeed been working diligently to transform its wearables into real health and wellness tools. The Watch SE analyzes your motions and tracks your heart rate to determine what sort of movement to look out for in these workout kinds.
Other Features
This Apple Watch's built-in music is one of its most appealing features. Spotify is getting an update that will allow users to play music. This Watch SE now has the ability to monitor sleep, which is a valuable function. It also allows you to make as well as receive calls and also text messages from the wrist.
Pros
Fall monitoring and health alerts for the heart
Fitness characteristics that are excellent
Touch screen that is bright and responsive
Cons
Specific applications may take a long time to load
3. Best for Accuracy: Apple Watch Series 3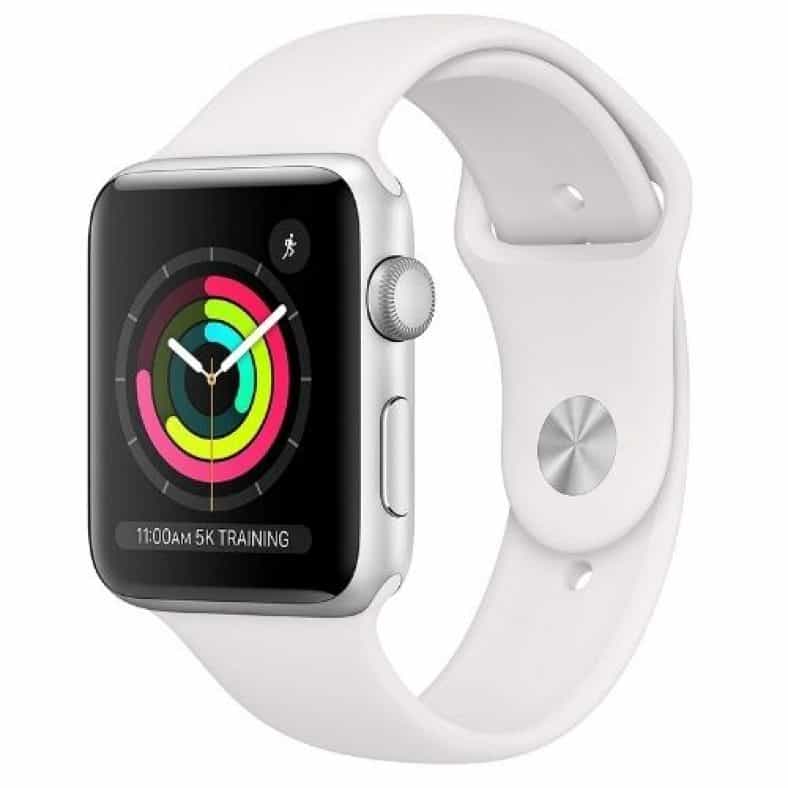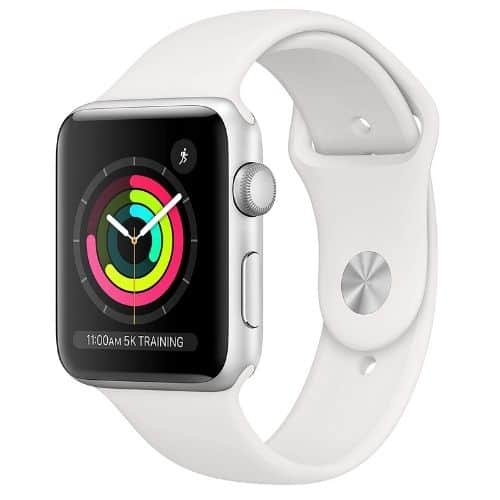 Series 3 Apple watch is another best apple smartwatch for iPhone users. Although many new series have been launched in the market. But it is still dominating the market for its effectiveness and price line. If you're prepared to accept the trade-offs, this one is one of the most exemplary efforts at a genuinely independent smartwatch.
Convenient design
Although featured in the same cutting-edge design, it has a relatively small casing compared to the Series 6 and SE. The cellular, as well as non-cellular versions, are available in 38 mm and 42 mm diameters, respectively. Each version is available with a golden, silver, or dark grey aluminum chassis or silver as well as space black stainless-steel chassis.
More Rounded Display
This wristwatch has the same square display as the original device. While it isn't quite edge-to-edge, it is somewhat more curved than earlier versions, providing the appearance of a more rounded face while sacrificing the square screen's benefits. The display's efficiency is extremely sharp and bright, with all of the screen capabilities included.
Battery life and performance
This watch has slightly improved battery life compared to the previous series. According to their official website, this watch is capable of holding power for about 16 hours. However, how long the battery lasts depends on the user's activities. Made with an S3 dual-core processor, it is able to do all of the things you need it to.
Excellent fitness-tracking
The barometer altimeter on this Series 3 watch helps with activity monitoring, stair climbing, and outdoors exercises, including elevation change. Cyclists, skiers, and snowboarders will be most interested in this. On elevated fitness trackers and smartwatches, it's a standard feature.
Other Features
Its heart Rate Monitor is one of the most exclusive features of this watch; it comes with highly functional health and fitness tracking functionality. The GPS functionality will be very subsidiary for the person who is more interested in hiking. This watch also includes Sleep Monitor features.
Pros
Heart rate tracking has been improved
Clear as well as a high-quality call option
Crafted with a super-fast watch processor
Cons
Compatible with only iPhone or iOS
4. Best for Functionality: SAMSUNG Galaxy Watch Active 2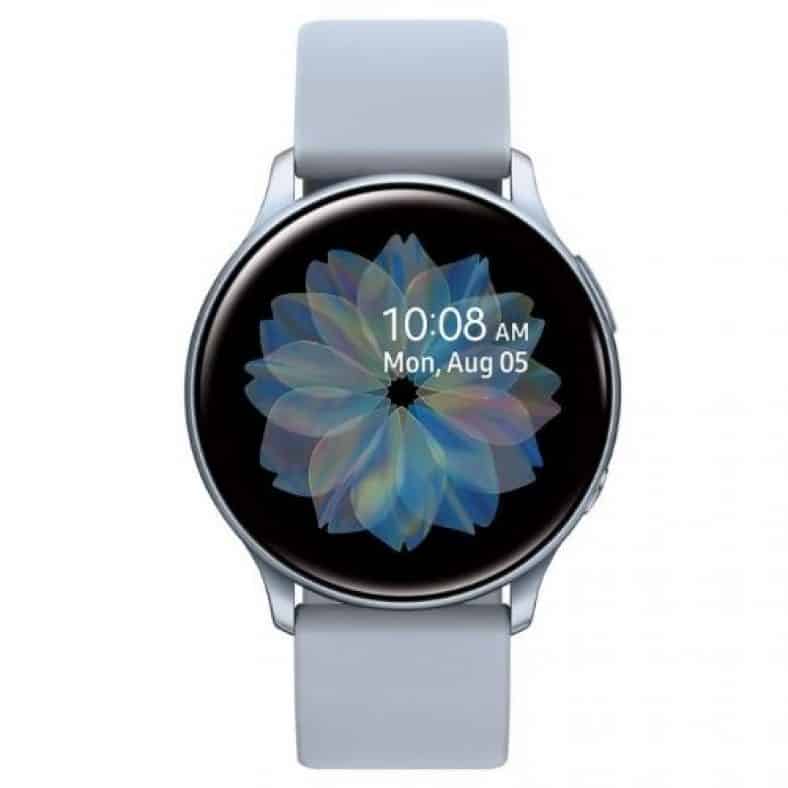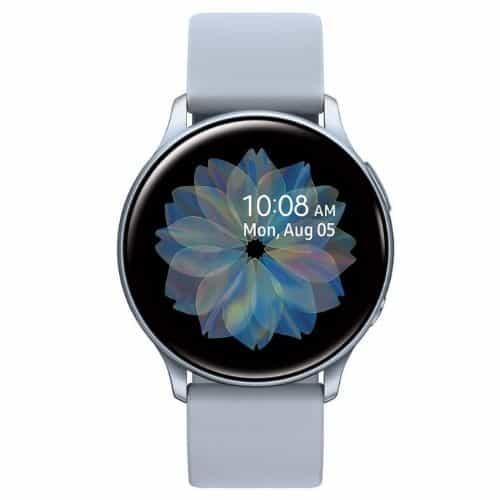 SAMSUNG Galaxy Watch Active 2 is one of the best options for people who are looking for a smartwatch that is compatible with both iOS and Android. With its latest features and functionality, it is the best editors' choice smartwatch in the market. There's nothing wrong with this Samsung watch if you prefer a more refined appearance and feel.
Compatible Design
This watch by Samsung features a fabulous and aesthetic design. It comes with three several size options; it is more compatible with any wrist. Made with an aluminum casing and silicon band, it will provide more durability. Comfortable and Sleek, this watch will go well with any outfit, and it will offer you a more stylish appearance.
Super AMOLED display
A Super AMOLED display with a digital dial is included on the Active 2's. That's about typical for smartwatches, and it's plenty of screen space to sift through important data. The majority of Samsung's first-party applications have been tuned for this screen. The dial's simplicity makes it a worthwhile experiment.
Software and Performance
It is made with a 1.15GHz Exynos 9110 Dual-core processor. It is one of the fastest chipsets for the smartwatch that performs excellently well. The Active 2 is powered by One UI on top of the company's tried-and-true Tizen OS, much like its original. First-party applications are likely to handle most of your interaction.
Fitness and Health Tracking
On the original Active, the fitness monitoring was a bit of an unexpected hit for us. It doesn't accomplish anything that other fitness monitoring smartwatches or specialized fitness trackers don't already do. But it's all presented in a really appealing manner that will entice you to track the steps and be even more active in general.
Other Features
This wristwatch has pretty much everything you'll need to get your weekend training done. This watch includes everything: heart monitor, built-in GPS, swim-proof construction, and swim-tracking. On the clear display, the real-time data is simple to see, and you have accessibility to the music settings.
Pros
Aesthetically pleasing minimalist style
Includes Trip detection and VO2 max
Workout tracking will be done automatically
Cons
All features don't work well with iOS
5. Best for Battery Life: SAMSUNG Galaxy Watch 3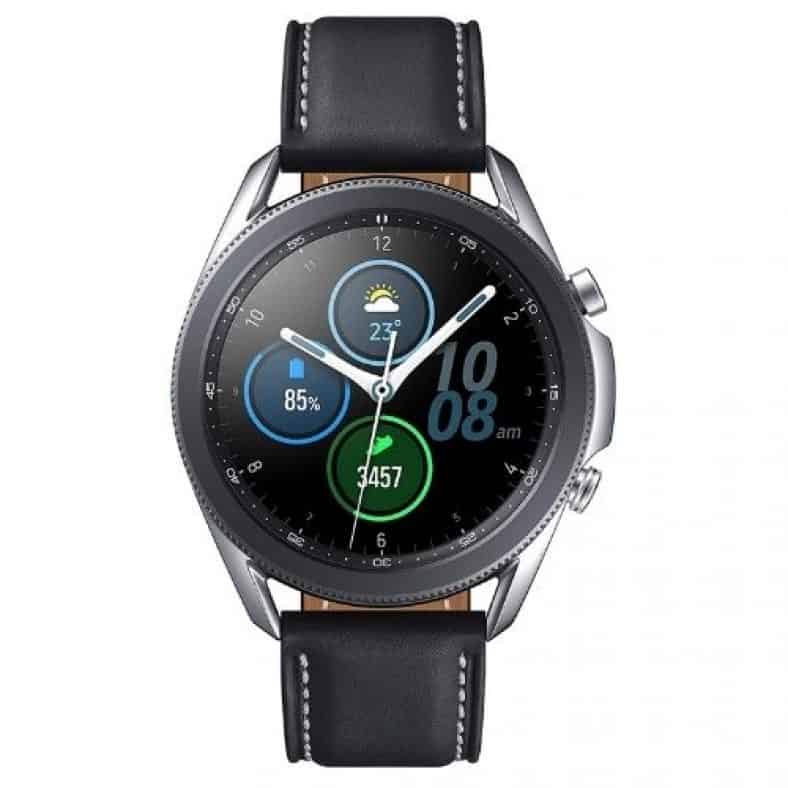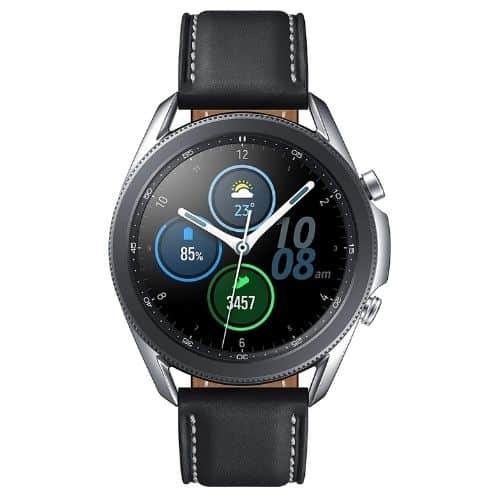 Samsung has launched the Watch 3 series, fixing all the issues of previous smartwatches. Samsung is focusing on health with this newest addition towards its smartwatch range. This SAMSUNG Galaxy Watch 3 is one of the best alternatives to the Apple Watch. Upgraded features with innovative design, it is an impeccable device.
Fabulous Design
This smartwatch comes with an excellent design which is very amazing to look at. This watch comes with 2 versions of leather and stainless-steel straps. Stainless steel provides good durability, but the leather strap will look very aesthetic and comfortable to use. Based on the casing, two variants are available, 41 mm and 45 mm.
Excellent Watch Face
Out of the traditional smartwatch display or face, Samsung has given innovation to its built Watch 3. The watch is built with a Super AMOLED display with a dial pad that looks a lot like an analog watch. The 360-degree display is vibrant, bright, and straightforward to read. Moreover, it has the always-on option to be helpful for some people.
Health and Fitness Tracker
Health and Fitness tracking is a core feature of the galaxy watch 3. This watch can track more than 40 activities, some are automatic, and the other is manual. Its tracking function includes running, swimming, walking, rowing, cycling, elliptical workouts, as well as dynamic workouts. The Galaxy Watch 3's onboard GPS is able to accurately measure the daily course.
Battery Life and Performance
It is crafted with a 340 mAh battery that is claimed to last two days. That's reasonable by smartwatch standard. Samsung's Tizen operating system is a significant upgrade over Google's temperamental Wear OS. This watch has a variety of menus that can be customized and are jam-packed with practical applications.
Extra Features
This timer includes an ECG monitor, which means it can detect symptoms of fibrillation. You can also use a Bluetooth connection to make calls, send texts, and get alerts. It also includes 8GB of music storage, and with a Spotify Premium membership, you can store songs for offline use. The Watch 3 is compatible with Android and iOS smartphones.
Pros
Excellent and premium quality design
Includes useful rotating bezel in the casing
Offer highly functional activity tracking
Cons
It is expensive than other watches
6. Best for Durability: Fitbit Versa 2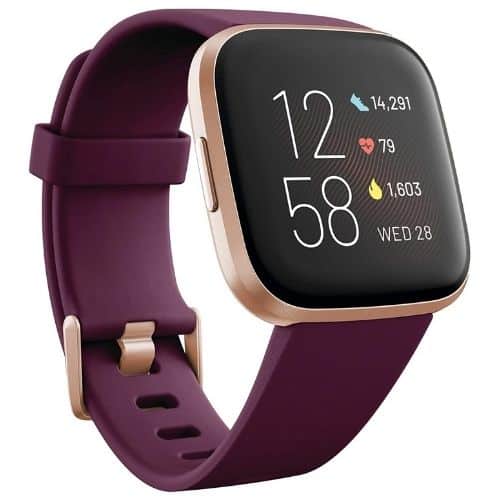 The Fitbit Versa 2 is attractive, comfortable to wear, and comes with a powerful companion app. To remain relevant in the luxury fitness watch market, the firm will have to up its game. It includes a number of new features, including a voice assistant as well as a premium membership service geared at assisting you in achieving your objectives. It's one of the most affordable smartwatches here on the market right now.
Stylish Design
This smartwatch by Fitbit comes with such a design that reminds us of the Apple watches. Yes, there are many similarities between the creation of the Apple Watch. Silicone band built with stainless steel casing is very durable and comfortable. The convenient size of the watch makes it perfect and suitable for any wrist.
AMOLED Touch Screen
The AMOLED display of the Versa 2 is another excellent feature. Not only is the screen somewhat bigger, at approximately 1.4 inches, but it also has an always-on mode that displays the time, date, as well as battery life. In this setting, the screen is just black and white. To obtain the full-color display on the Versa 2, you must first wake it up.
Excellent Battery Life
Its battery life is simply outstanding. For regular usage, approximately five days, as well as two days if you utilize the always-on display function. Even when using it at night, you will be able to get almost three days out from the Versa 2 with the screen set to stay on.
Activity tracking
It features two new sleep-related capabilities to its devices featuring heart rate monitors, which aren't exclusive to the Versa 2. There are certain limitations to the Versa 2's ability to easily record activities, including walking, jogging, and bicycling. Versa 2 may be a better option for you if you want a specialized activity tracker instead of a watch including all activity tracking.
Other Features
This smartwatch consists of all the necessary features. A Fitbit Premium membership will provide you with additional statistics on the sleeping pulse rate as well as restoration. Alexa is perhaps the most significant update to Versa 2. Overall, it is one of the best smartwatches for the iPhone.
Pros
Lightweight design that's been improved
Option to keep the display on all the time
The watch provides long life for the battery
Cons
No offline mode to playback on Spotify
7. Best Fashionable Smartwatch: TicWatch Pro 3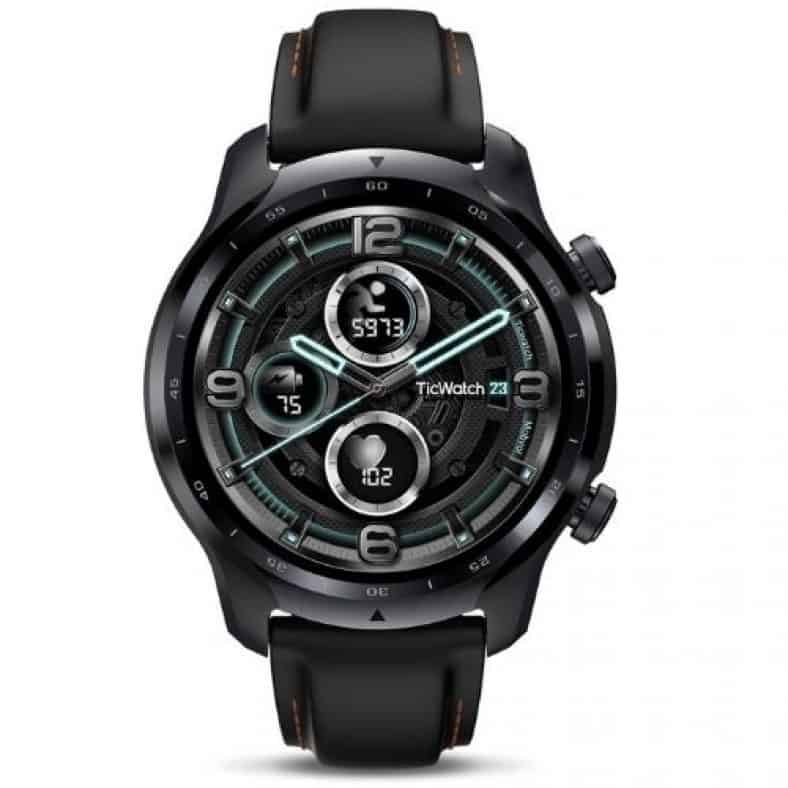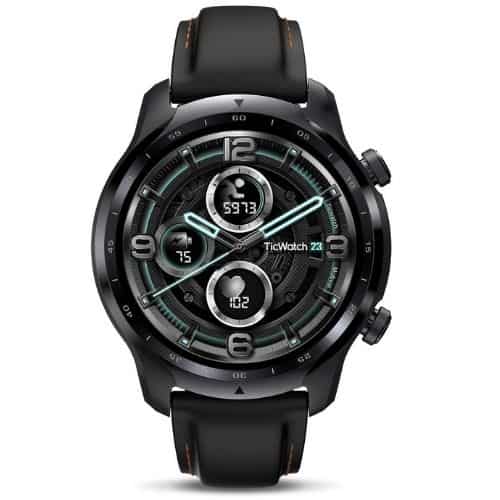 Touch of an analog watch on a smartwatch. Yeah, that's it; the TicWatch Pro 3 looks exactly like an analog watch. Hour marker with 3 hands, the watch is truly an impeccable creation. Its design is too luxurious as well as fashionable; it has provided a more eye-catching appearance. It's a smart way to prolong the battery's lifespan.
Ergonomic Design
Compared to the traditional smartwatch, this watch presents a different design. Apparently, this design looks like an analog watch which is really very lovely. The design of 3 hand and hour markers in a clean dial pad is very impressive. Stainless steel casing with a leather strap will fit well in any hand, and it will last long as well as be comfortable to wear.
Display and Battery
The watch has a display that is extremely clear, bright, and sensitive to touch. It also features an always-on mode, which appears totally different from the typical watch face, which resembles classic digital timepieces. Another of the Pro 3's strong points is its 577mAh battery, which frequently lasted us over two days and into a third. By shifting to Essential mode, you can get up to 45 days of battery life on a fully charged battery.
Health and Application
This watch is crafted with Wear OS, which has a basic health function through the Google Fit applications. Exercise, TicHearing, TicPulse, TicOxygen, and TicSleep are among the fitness and health applications included with the TicWatch. The majority of the applications are identity and functional, tracking stress, heart rate, blood oxygen levels, and activity.
All functional performance
The Pro 3 is the very first wristwatch to use the Qualcomm 4100 processor, and it's a speedy watch with 1GB of RAM. Wear OS is installed on the smartwatch in a very conventional manner, with usual sliding and gesture options. Touch navigation is made simple and fast because of the powerful chipset. Your step count and heart rate may be monitored as you also keep track of time.
Pros
Feature High resolution and crisp display
Fastest snapdragon 4100 watch chipset
This smartwatch offers excellent battery life
Cons
Sleep monitoring isn't very precise
Read the full review of the Ticwatch Pro 3 GPS smartwatch
8. Best Value for Money: Garmin Venu 2S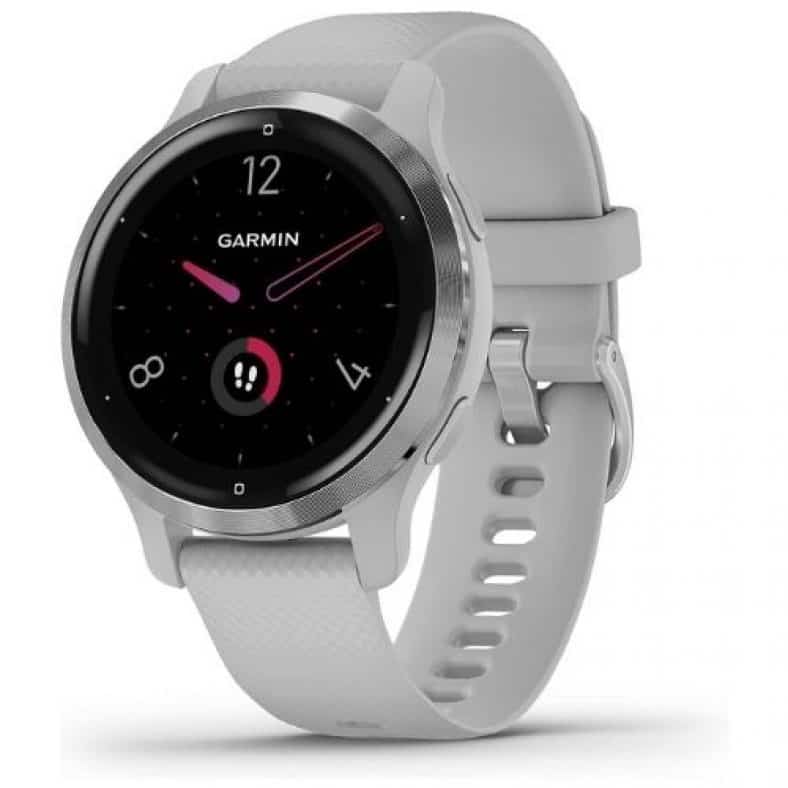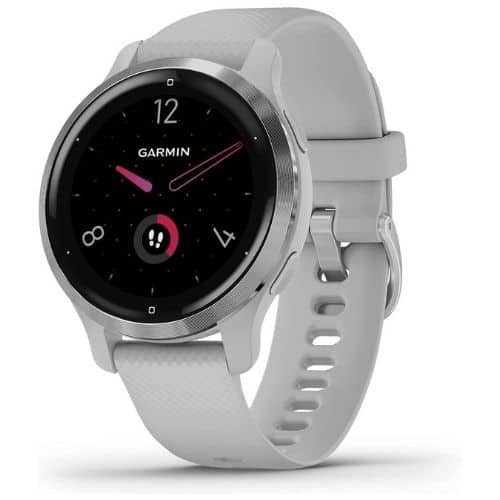 If you are more interested in a gorgeous wristwatch, then the Garmin Venu 2S will be the best option for you. This smartwatch features a gorgeous and sleek design. It also includes several essential features and functionalities that you need to form a smartwatch. The Venu 2s is a fantastic option whether you're searching for a fitness watch.
Design and Display
It is a smartwatch by the reputed brand Garmin and has a gorgeous and fashionable design. It looks so aesthetic as well as stylish. The watch is crafted with Stainless steel casing and a Silicon band. The AMOLED display gives a new life to this watch. Watch faces pop out the display, as well as the UI's colors, are bright and intriguing.
Powerful Battery
The Venu 2S represents a significant advancement in lifespan. According to Garmin, it features a super-powerful battery that can last for 10 days when used only as a smartwatch. The Venu 2S, according to Garmin, can run in GPS mode for 22 hours. This is more than enough capability for a smartwatch.
Performance and Precision
This is a high performer and all functional watch. With this watch, you can listen to music, talk, and do whatever you want, thanks to its versatility. The playback feature, like the rest of the watch UI, reacts to inputs much faster. The most exciting part of this watch is that it will give you all the data that is very accurate and reliable.
Health and Fitness tracking
Fitness monitoring, preset workouts, built-in activities apps, and more are included in the Venu 2S watches for a faster method to keep track of your overall level of fitness and achieve better performance on your post-workout. Body Batteries, Pulse Ox, heart monitoring, women's health, sleep tracking, and other superior healthcare monitoring functions are available on this smartwatch.
Extra Functionalities
The capability to stream Spotify tracks is a popular feature inside the Garmin ecosystem. Upwards of 25 built-in indoor as well as GPS sports applications, including hiking, jogging, cycling, swimming, golfing, and other activities to help you stay active. During exercises, heart rate readings seem to be accurate as well.
Pros
The elevating sensor seems to be a reliable sofa
This watch offers excellent battery life
The use of touch controllers is a breeze
Cons
Health Snapshot seems to be a waste of time
9. Best Fitness Tracker: Garmin Vivoactive 4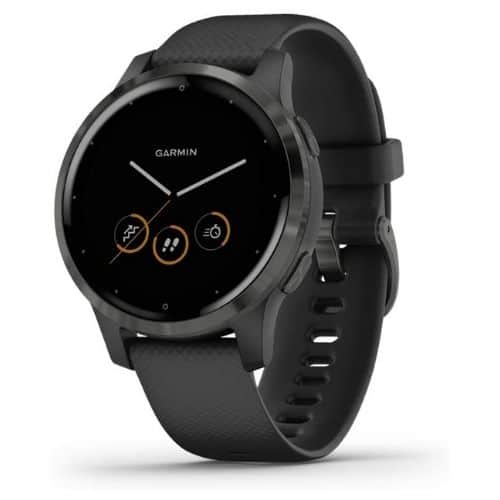 Garmin is one of the most reputed watch manufacturer brands, and they always offer premium quality wristwatches. Garmin Vivoactive 4 is one of their best smartwatches, and it is one of the most fabulous watches in the market. This is definitely the best option if you want a model that isn't too complicated but does a great job of monitoring important health and fitness indicators.
Aesthetic Design
Are you more interested in a round shape smartwatch? Most people are prone to round shape watches because it looks more aesthetic than a square-shaped one. The Vivoactive 4 comes with a round shape casing that looks fabulous and stylish. This casing is made of premium stainless steel, and the strap is made of soft and comfortable silicone materials.
Transflective Screens
It features a 1.3-inch screen with a resolution of 260 × 260 pixels. It is a transflective screen, which reflects light to make them brighter on a sunny day. This Garmin smartwatch also emits light, allowing you to view the display even in low-light situations. When not in use, this screen consumes extremely little power and is still the most acceptable screen for outdoors running.
Excellent battery life
This smartwatch by the Garmin brand features a super-powerful battery. According to the manufacturer's information, this watch's battery can last up to 8 days with only smartwatch mode. It will also last up to 18 hours without music or 6 hours using music and GPS tracking. However, in standard or regular use, it will last for 4-5 days.
Exercise Tracking
Its outstanding exercise activity tracker portfolio more than compensates for its shortcomings. SPO2, Body Batteries, and Respiration are all measured by Pulse OX. In a moment, we'll go further into them. The Vivoactive has all of the features you'd expect from a fitness tracker, including excellent GPS location mapping and the ability to track almost any activity.
Other Features
This timepiece is crafted with several excellent features and functionalities. It's safe to say that the Vivoactive 4's music function is its most essential one. For storing your podcasts, playlists, and songs, it comes with 3.6GB of storage. The watch is also capable of handling some of the fundamentals of a smartwatch. You may select which phone applications send users notifications.
Pros
Excellent design and stylish appearance
Earbuds supported onboard music storage
Animations for working out on the screen
Cons
Complicated method of installing an app
10. Best for Comfortability: Fitbit Ionic Watch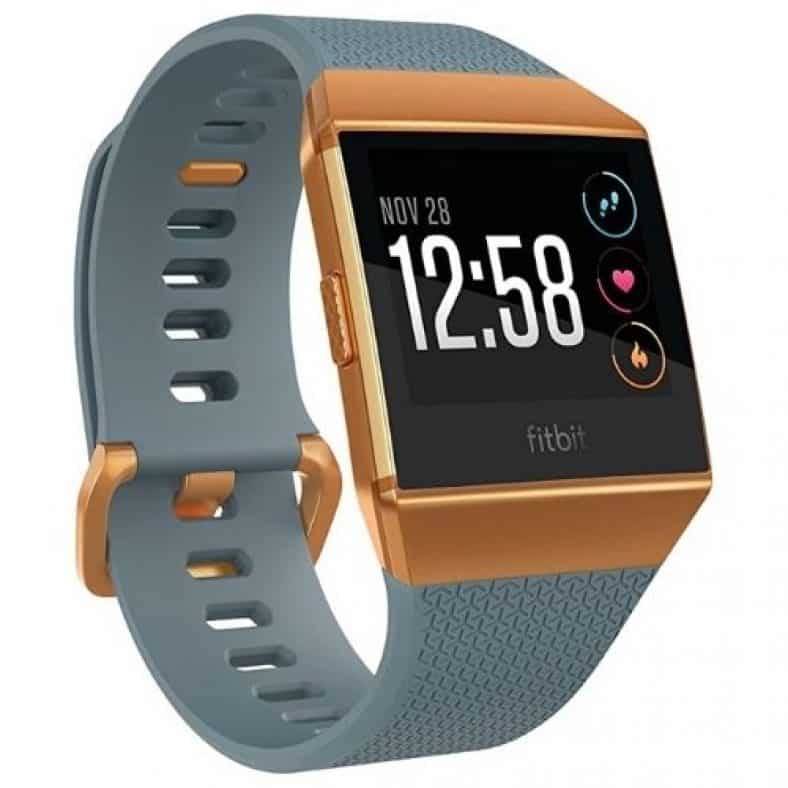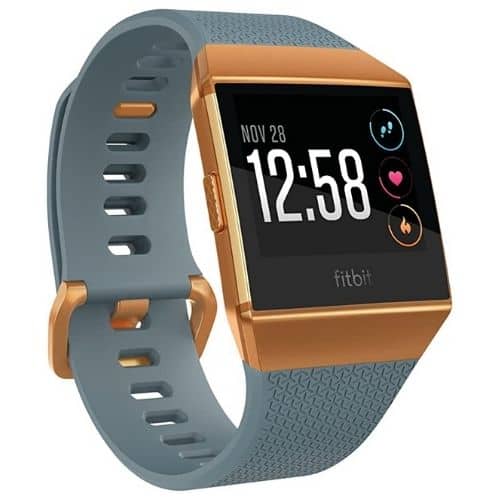 Are you looking for an affordable health/activity tracker smartwatch that is compatible with the iPhone? There is no better way to go than the Fitbit Ionic Watch. Comes with aggressive battery life, this watch always has one heart rate, and it is comfortable to wear. This health tracker is crafted with several excellent features. This one works with both iOS and Android systems.
Casual Design
There is nothing special about the design of the watch. The watch designs are fantastic, geeky, silly, and sometimes ugly, but usually in a positive manner. To many, its design may seem like a cheap watch. It's light and comfy, but it's made in such a manner that we think it'd be more suited to bigger wrists than smaller ones.
Durable and Comfortable
Crafted with premium quality Aluminum materials, this watch is excellently durable and stable. The watch has a soft silicone band which will make it more comfortable to wear. Its simple and casual design will go well with any outfit and can be used for any purpose. It is suitable and perfect for any wrist size.
Extended battery life
One of the most exclusive functionalities of this watch is that it offers a more extended battery life. It is capable of holding a battery life of up to 4 days while all types of functions are working. This means that once you fully charge it, it will be effective for up to 4 days.
Health and Fitness Tracking
It's a wristwatch explicitly designed for health and fitness instead of being an essential all-rounder, and its capabilities back up the claims. It isn't the most powerful smartwatch, but if you really want something comparable and know you'll use it most when working out, its functions are enough.
Other Features
This watch is more effective as a health and activity tracker than a smartwatch. It has everything you need from an excellent health and activity tracker. It has built-in GPS, so you won't have to get your phone out until you want to. Fitbit Ionic monitors your actions and is very clever about it, keeping track of what is really going on.
Pros
Convenient as well as a lightweight design
Always-one heart monitoring system
Excellent mobile app & social network
Cons
Its appearance is like a cheap watch
Best Smartwatches for iPhone: Buying Guide
While you are in the market to purchase a smartwatch for the iPhone, you should consider several things to make an ideal purchase. Just as you should consider the watch's compatibility, battery life, display, etc., you should also pay attention to some basic issues like design, quality, reliability. At this stage of the smartwatch review, we will discuss step by step how to choose the best smartwatch.
Compatibility
When choosing a watch to buy the best smartwatch for your iPhone, its compatibility should be considered first. If you want to go with an Apple Watch, then you have no reason to worry about compatibility. The Apple Watch is compatible with the iPhone. But if you are thinking of going with a watch other than the Apple Watch, first judge its compatibility.
Make sure that the watch is compatible with your iPhone, meaning that you can use it by connecting it to the iPhone or iOS operating system. Because there are many watches in the market that are made only for Android operating phones.
Battery life
Usually, smartwatches featuring color displays the last one to a couple of days between charges. So think about how frequently you need to charge the watch. When you use smartwatches as phones, won't survive nearly as long.
Most smartwatches such as Apple, Samsung use Wireless charging. This is convenient instead of plugging your smartphone into a wall outlet. On a single charge, the Apple Smartwatch lasts approximately 18 hours of mixed usage.
Consider the Display
Smartwatches are often available with a color LCD or AMOLED display, which provides a better color experience and a higher level of brightness for viewing pictures, applications, and other information. The downside is that smartwatches have a shorter battery life, but manufacturers are working to make the gadgets more energy efficient.
Some may last for days or even weeks, but if you really want the most significant battery life, go for a black-and-white screen. Instead of LCD screens, more expensive smartwatches use clear OLED displays, which allow for thinner designs.
Fitness features
Smartwatches have become popular because of their ability to monitor physical activity. In addition to a heart rate sensor, another all-watch should track your activities, calories burned, and exercises. GPS is included in many smartwatches, making them great for charting outruns and bike trips.
Those who like to swim will need a device that can survive a few splashes in the pool, and fortunately, most multipurpose gadgets nowadays are water-resistant. Several fitness-focused smartwatches from Garmin and other manufacturers include additional functions like heart-rate variability monitoring, recovery time estimates, auto-exercise recognition, and inbuilt maps that aren't included in the standard version.
Several smartwatches have improved their health monitoring capabilities in the last few years. Even the Apple Watch, which may be worn on the wrist, can monitor electrocardiograms (ECGs). A cheaper wristwatch is less likely to include sophisticated health monitoring capabilities, so if you value such information, you'll have to fork up the cash.
Design and Quality
Design is another major factor for each and every smartwatch that you should consider while purchasing one for you. One of the smartwatches available in the market today is Round Face and Square Face. Basically, a round face watch looks more traditional than a square face. Select a casing design that fits your hand better.
Now let's move on to the watch strap. You also need to consider a watch that is able to give you more comfort in wearing. Together a silicone belt's watch may be the best consideration. However, the leather strap watch will provide you with comfort as well as make it look more gorgeous.
Consider The Price
Smartwatches in this price range are considered to be top-of-the-line. These more expensive smartwatches offer more sophisticated fitness, music, and communication capabilities than cheap watches, which range from $100 to $200. On top of that, they'll frequently feature extras like built-in GPS, audio storage, as well as NFC that less expensive models don't.
Specialized activity tracker watches are available; however, they may cost upwards of $500 and should only consider serious athletes. Smartwatches marketed as "luxury" may sell for astronomical sums, but we don't suggest any of them.
Frequently Asked Question (FAQ)
Can you connect any smartwatch to your iPhone?
No!! Of course not. You can't connect any watch to your iPhone if you want. To connect with the iPhone, the watch must be compatible with iOS. There are many watches that only support the Android operating system. You can't connect these watches with your iPhone.
How Long Do Smartwatches Battery Last?
Smartwatch, which has a full-color touchscreen display, only lasts approximately a day on a single battery charge. While features like GPS monitoring and always-on displays are convenient, they rapidly deplete the battery.
Are Smartwatches Waterproof?
While most smartwatches come with water-resistant capabilities, waterproof capabilities are rarely noticed. The difference between waterproof and water-resistant is that waterproof watches can ultimately withstand water and be used for any water activity. However, some limitations can be observed in the case of water-resistant.
Is the Apple Watch worth buying?
Absolutely! The Apple Smartwatch is the most prominent timepiece on the market today; regardless of whether you require it from a smartwatch, it has everything for you.
Do you need an iPhone to have an Apple watch?
Apple Watches need an iPhone to set up. Although users can't set up the watch without an iPhone, the gadget has many capabilities that allow you to leave the phone at home.
Final Thought
Apple Watch, as well as other brands, can be considered in choosing the best smartwatch for iPhone users as long as it gives you convenient compatibility. The smartwatch is not just a watch; it serves as a good fitness tracker, health tracker, and activity tracker. So, you need to choose a smartwatch for your iPhone that gives you the highest performance. This review of the best smartwatches for iPhone with a buying guide will prevent you from making mistakes.
As an Amazon Associate, I earn from qualifying purchases.