Apple Watch Series 5 Review | The Perfect Smartwatch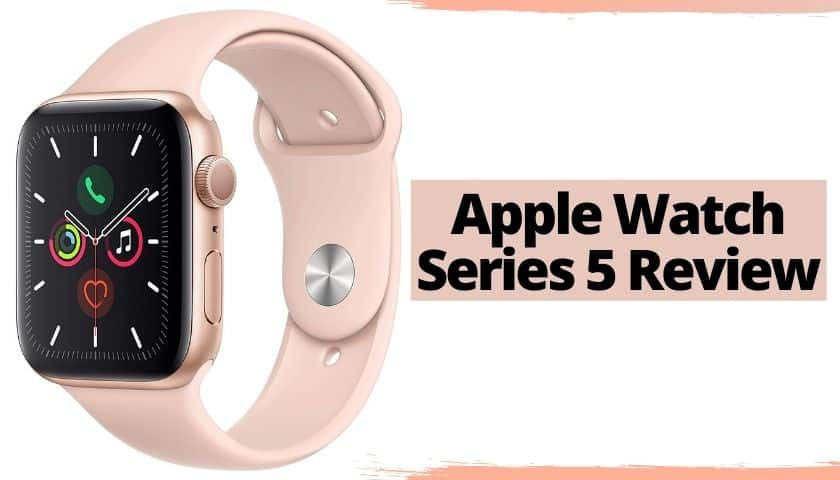 As an Amazon Associate, I earn from qualifying purchases.
Apple Watch, dubbed "Apple's finest personal gadget ever," enables users to perform everyday tasks more simply and comfortably. Apple watches series 5 is one of the most unique, highly functional as well as stylish watches available in the market. In this Apple watch series 5 review, we'll discuss one of the best Apple watch editions, "The Series 5."
This Smartwatch by apple comes with several exclusive features and functionalities while the design is almost the same as with the previous series.
The Apple Watch 5 was the first edition of an apple wristwatch that had an always-on screen, and it was a game-changer. Read this review to know more about this device.
Apple Watch Series 5 Review – Why Should You Buy It
Crafted with several exclusive features, Apple Watch 5 is one of the best smartwatches on the market. The Series 5 watch may not have as many improvements in design, but it has included the most significant new functions. Read this Apple watch series 5 review and make a positive decision.
Apple Watch Series 5
1 used from $332.13
Free shipping
as of November 28, 2023 2:13 pm
1. Unique Design
Above all, there is no difference in the design of the Apple watch series 5. It would not be wrong to say that the designs of series 4 and series 5 are the same. This Series 5 looks similar to Series 4 in every way.
A total of 2 different casing sizes of the watch are available. 44 mm casing is available for medium and large wrists and 40 mm casing for relatively small wrists.
The main workmanship of the watch, i.e. the casing design, has been completed by finishing the gold and silver metals on top of the aluminum.
The digital crowns, microphone, and main button are all located to the right of the device. The electrical and optical heart rate sensors are on the device's base, while the speaker seems to be on the left.
It comes in a variety of colors to pick from. The design of the Pink Sand Sport Band with Gold Aluminum Color Case, on the other hand, is really beautiful and distinctive. You are free to pick whatever hue you like.
Because this watch strap is readily replaceable, you may pick whatever brand you like. Furthermore, Apple now allows you to personalize this watch's finish and strap before purchasing it.
2. Always-on Display
The Always-on Display technology distinguishes Apple Watch Series 5 from prior models. Apple's take on the always-on display is a bit different.
You can simply check in with the watch instead of doing anything, thanks to its Always-on Display. This is a major improvement that makes a bigger impact, providing the Series 5 much more advantages.
This Series 5 is capable of much more than simply telling the time. When you are not wearing your watch, its display dims all of the data on this watch's face.
The change is even more noticeable with lighter watch displays, such as Meridian, which has a nearly all-white backdrop that fades to black as the wrist lowers.
The illuminance sensor upon that display can determine how intense your surroundings are and adapt itself appropriately. The always-on screen dims as well as blurs the backdrop while you are using an application to display your current time whenever it's not in use.
However, this Always-on Display consumes more power, reducing the battery life of your watch. You may switch off the always-on feature to conserve battery life.
3. WatchOS 6 Operating System
This Apple Watch Series 5 is equipped with the watchOS 6 operating system, upgraded through an over-the-air update. WatchOS 6 has a lot of positive aspects.
With all-new Smartwatch applications, watchOS 6 gives you new ways to remain connected, be so much more active, and even get information about your health.
Cycle Monitoring, Noise, Audiobooks, Voice Memos, Calculators, and the App Store are all included. Plus, Exercise Trends is a new method to monitor how engaged you are already over time.
Featuring excellent performance, as well as a straightforward, quick-to-learn consumer experience, the Apple smartwatch and WatchOS 6, go together like a dream. All the other wearables platforms pale into insignificance. It's also enjoyable to use.
4. Battery life
Battery life is a major thing that you should consider while buying any kind of Smartwatch. A watch with longer battery life is able to provide its functionality for a longer period of time.
According to the official website, this watch can run continuously for about 16 hours after a full charge. This means that it will last for 16 hours after the watch battery is fully or 100% charged.
However, this time may vary based on usage. Real-time user experience shows that this watch is capable of holding an average of 15-18 hours of charge.
If you start with an Always-On screen, it's the effect that function has on battery capacity. Recharging takes approximately one hour, as well as a noon top-up would comfortably last you through the rest of the next day.
5. Comfortable and fashionable
Comes with a convenient cover design, this watch will fit well on any wrist. The aluminum material makes this watch more durable. The silicon strap will ensure excellent comfortability to wear. Its elegant and fabulous design is perfect to wear with any outfit and is suitable for any occasion.
6. Health and Fitness tracking
Health and Fitness tracking are some of the most exclusive features of a smartwatch. This series 5 Apple watch comes with a very functional Health and Fitness tracking feature.
It takes care of steps, elliptical training, calories, workout tracking, hourly movement, relaxation, swimming, and biking, as well as other activities. The Health and Fitness based data that this watch provides is highly precise as well as reliable.
7. Compass functionality
One of the other best functionalities of this series 5 smartwatch is its Compass functionality. This feature will be very helpful for you if you are more interested in hiking.
Apple is making the Compass Protocol available to 3rd party applications, and it's already utilizing it in its Navigation app to inform you which way you're looking.
8. Cycle Tracking
Regarding Cycle Tracking, Apple is really not creating anything new; however, the fact that these women can now monitor their periods just on the finest wristwatch on the marketplace.
In addition to all other characteristics that make it excellent, is a pleasant change. After your self-report timing starts the periods, the watches may begin correctly predicting when that will begin.
9. App Store
One of the most interesting parts of the WatchOS 6 is that it includes the App Store for Apple smartwatches. You may now download and install applications straight from the App Store without having to get out of the phone.
To be truthful, exploring such a big shop on such a tiny screen is difficult, but it is there in case of need.
10. Overall Performance
The Apple smartwatch's initial designs lacked the necessary degree of performance. That really has changed, as the Series 5 only suffers when it is put under a lot of stress, like while running data-hungry applications.
The S5 processor inside is smooth, quick, and never irritating, but it doesn't provide performance improvements; instead concentrates on efficiency.
What's cool is that you can utilize applications on the watch if you wish, and the iPhone will immediately add the Watch edition of apps that you already have on your smartphone during setup.
You don't have to install the iOS edition of an application on an iPhone if you don't need to since, thanks to WatchOS 6, the App Store has become accessible on the Smartwatch.
Pros
It has an elegant and fashionable design
Crafted with WatchOS 6 operating system
Powerful S5 dual-core super-fast processor
It feels a lot more with the always-on screen
Shows accurate fitness data
Always-on display
Cons
Battery life is too short compared to its competitors; only 18 hours
Is the Apple watch series 5 waterproof?
Apple watches series 5 waterproof comes with water-resistant capacity, and it has no waterproof capability. There is a bit of difference between water-resistant and waterproof.
In the most basic sense, a waterproof watch provides the greatest degree of water resistance. While a water-resistant watch provides enough protection, it does so at a lesser cost.
Read More: A full review of the Apple Watch Series 7
Frequently Asked Questions (FAQs)
Can I shower with my Apple Watch 5?
Yes, you can take a shower or bath with an Apple Watch 5. However, it is advisable to avoid it in soaps, conditioners, lotions, and perfumes as they can negatively affect your watch.
Can the Apple Watch survive in the rain?
Since the Apple Watch brings water resistance functionality, it is able to withstand light water such as sweat and even rainwater. So, you can serve in the rain with an Apple Watch.
Can you use Apple Watch 5 without a data plan?
If you really want to utilize the bulk of the Apple Watch's functions without the need for an iPhone, you'll have either mobile or Wi-Fi connectivity. You can use a Smartwatch without needing an iPhone or internet access, but you'll be limited in how much you can do.
Read Next:
Final Thought
The Apple Watch 5 is a legitimate fitness gadget that competes with other exclusive watches. All except your best runs will be properly tracked. Look elsewhere if you are an extreme marathon runner or want to track your sleep.
Similarly, unless you really must have the newest gadgets, don't worry about upgrading unless you already possess the AW4. This Apple watch series 5 review will be helpful for you to go through this watch.
As an Amazon Associate, I earn from qualifying purchases.