Garmin Fenix 5x Plus Review | The Ultimate GPS Watch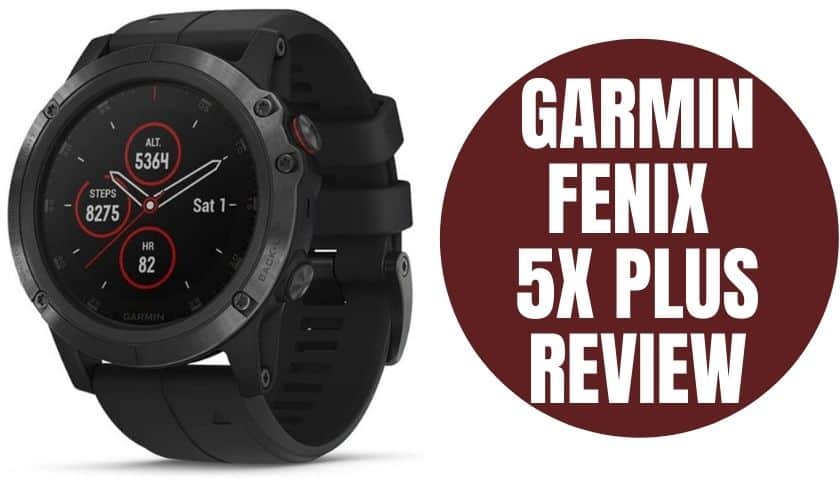 As an Amazon Associate, I earn from qualifying purchases.
Garmin appears with Fenix 5x plus the updated version of Fenix 5. It is not only the costlier version but also the ultimate GPS sports watch. It does not actually have more price, it includes more features and tech too than its earlier model.
Garmin Fenix 5x is called the best sports watch in the market as it can track almost all your movement. We will find out 'is it really the best sports watch or not by Garmin Fenix 5x Plus review.
Garmin Fenix 5x Plus Review
Talking about features, Fenix 5x Plus includes all premium features that help you to make your life easy. The high-end functions will blow your mind.
Garmin Fenix 5x Plus Specifications
Size: 2 x 0.7 x 2 inches
Weight: 3.36 ounces
Display: 1.2"
Display type: Transflective memory-in-pixel (MIP)
Resolution: 240 x 240 pixels
Battery life: Up to 20 days and 13 hours with GPS mode
Storage: 16GB ROM
Garmin fenix 5X Plus
5 new from $549.99
3 used from $189.99
Free shipping
as of October 1, 2023 5:54 pm
Design
The watch comes with a chunky appearance with big bezels. The build quality is so rugged with exposed screws that it is fit for any adventure. On the top, the dark finish with a PVD-coated stainless steel bezel matches any personality. Since the display is not a touchscreen, there are five buttons for input and custom function. Moreover, the screen always stays bright and has clear imagery both day and night.
The watch includes a rubberized silicon band that offers nice comfort and flex while wearing it. The straps also feel durable and seem to last for longer. But the watch is weighty at 3.36 ounces. During long-wearing some may feel hefty.
Display
Fenix 5x Plus has a 1.2-inch high-end domed sapphire lens with 240 x 240 resolution. The screen incorporates a transflective technology to transmit and reflect the light resulting in the watch's face becoming more bright and even more readable under intense sunlight.
From the Connect IQ store, you can customize your Fenix 5x plus. You can change the watch face, data field, download apps, and widgets. You can see all the information at a glance from here.
Tracking Features
This timepiece features a lot of sensors to enhance your experience. It includes GPS, optical heart rate, GLONASS, compass, barometric altimeter, accelerometer, gyroscope, and thermometer. Now, there is a new addition of a pulse oximeter that measures the blood oxygen of the body.
The watch has built-in the latest Galileo system GPS for more accuracy and rapid location identification. The GPS system provides the correct outcome. So here are some effective tracking features:
Live Track: It lets you invite other friends to your training goals and join activities. It helps to set a new goal and encourages you to achieve it.
Fall detection: It detects your fall and the assistant feature seeks help when a fall was detected. By holding the light button and the watch will vibrate 3 times, then your location will be sent automatically to the preset emergency contacts. Though you need to connect your phone to get this feature.
Fitness: Gym and fitness tracker offers a wide number of workouts including cardio and strength, automatic rep counting, stair-stepping, rowing, elliptical, and yoga. You can plan and analyze your workout training. You can custom your activity profiles, and track advanced workouts.
Activity Tracking: It can track your all activity including steps, sleep monitor, calories, floors climbed, distance, fitness age, and all-stress tracking.
Running feature: Running feature provides GPS-based distance tracking, time and pace, and run workouts. In the running profile, it detects indoor and treadmill running.
Heart Rate Monitoring: The optical heart rate sensor effectively tracks heart rate. It provides multiple information like HR zones, HR calories, HR alerts, HR max %, and HR broadcast data. All the data is stored in the paired device. It also tracks how much you recover from the previous tracking.
Oximeter: Many think oximeters relate to the heart rate monitor. But it is not. It is primarily designed for altitude training like mountain climbing where the oxygen level is going down. To see the oxygen level, this feature is effective. In the sensitive situation, it turns red light.
Maps: The map detail of the watch is incredible. It uses the Worldwide DEM base map to provide plenty of detail and shows roads in cities. It works like your guidance. If you set an OpenStreetMap layer, it allows the watch to suggest routes based on previously taken paths. Further, you will have a detailed idea about the route when you are running, cycling, or hiking.
Spotify
Many people have been waiting for a long time to listen to music offline on the wearable. However, Garmin makes it possible. You must need a Spotify app that works to download music to the watch and listen without connecting a phone and wherever you go. You can download over 500 songs and stream them easily.
Battery life
Battery life is very impressive in this watch. It is a big jump from the previous Fenix 5x. This watch offers up to 20 days of battery life in a stand-by mode that is incredible. Though it depends on the usage. The battery life goes faster due to the usage of GPS and tracking features. You can use it for up to 13 hours in GPS mode with music play that is much better than any smartwatches available in the market.
Pros
Robust build quality
Accurate GPS service
Effective tracks every movement
Heart pulse measurement is pretty accurate
Great for gym training
Long battery life
Great to find maps
Cons
No touchscreen
Heavyweight
Frequently Asked Questions (FAQ)
Is the Garmin Fenix 5x Plus waterproof?
Garmin Fenix 5x Plus is a high-end sport watch. So it features a waterproof coating. It is waterproof down to 100 meters. Of course, you can go swimming without any worries. However, there is a doubt that you can go diving or not.
Is Germin Fenix 5x Plus Worth it?
Garmin Fenix 5x Plus is a premium sports watch. The functions and specs that it offers are genuinely worth the money. The build quality is robust, GPS tracking is precious, health tracking sensor is effective, it detects all your gym training, and so on. For this, plenty of features, the price is worthwhile.
Is there a Fenix 5x Plus touchscreen?
No, the Fenix 5x Plus does not have a touchscreen. There are five physical buttons to navigate the watch easily.
Should you buy a Fenix 5x plus?
If you love adventure and sports, then it can be the best option for you. The features and specs surely meet your demand and effectively.
Final Words
Garmin Fenix 5X Plus is an awesome GPS watch that can cover your every movement. Its countless features enrich your knowledge by providing your activity information. It helps to live a brilliant life. Moreover, the stunning GPS feature is accurate and helps you in every route. The long battery life is also a plus point for you.
If you are an outdoor adventurer, runner, or health-conscious person, then this ultimate GPS sports watch is great wearable for you. Moreover, it allows you to listen to your favorite music without connecting to your phone.
Related Post: Garmin Fenix 7X Solar Review
As an Amazon Associate, I earn from qualifying purchases.