Suunto Core Review 2022 | An Ultimate Outdoor Watch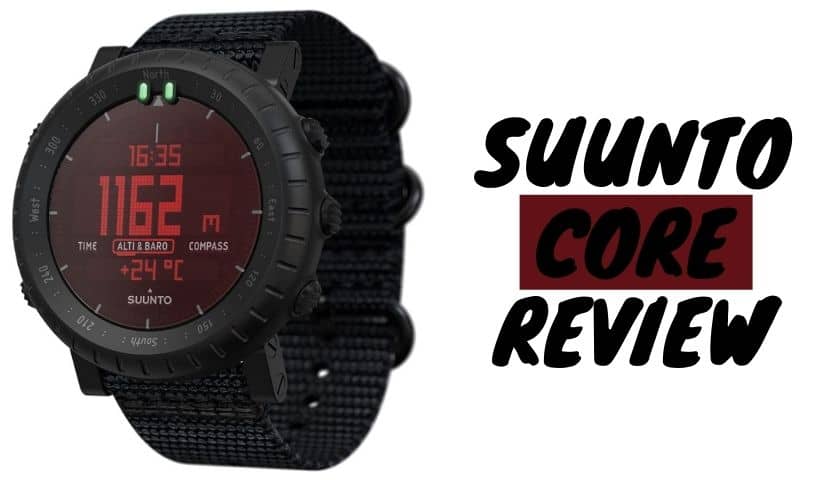 As an Amazon Associate, I earn from qualifying purchases.
Suunto Core is a sporty watch specially designed for outdoor usage. It is a fully-featured altimeter watch that can be considered a surviving tool during adventurous trips. The watch is packed with outdoorsy features that are useful in many ways.
If you like robust and military-grade durability in your watch, then this new Alpha watch will be appeal to you. Here you can catch on the detailed review of the Suunto Core Alpha series.
In-Depth Suunto Core Review
Suunto Core Alpha is a great watch for those who travel a lot and live with adventure. The design and build quality is designed to survive in harsh conditions. Below are the exciting features that you will love.
Suunto Core Specifications
Dimension: 49.5 x 49.5 x 15.1 mm
Watchface: 49.1 mm
Weight: 67 g
Bezel Material: Aluminum
Glass material: Mineral crystal
Strap material: Textile
SUUNTO Core Alpha Outdoor Watch
4 new from $295.24
2 used from $197.59
Free shipping
as of October 2, 2023 4:54 pm
Features
Suunto Core is equipped with various modes to deal with intensive outdoor activities. Each function can easily access from the intuitive menu and provides detailed information.
In the time mode interface, you can see the actual time, and below it shows the time of sunrise and sunset. You can dual time mode in the case if you are traveling secondary location which differs from your time zone. Moreover, you can access other functions like stopwatch, alarm, and countdown timer. But the alarm sound is not too loud and you may need to place the watch beside your head so that it can wake up you.
You need to forget the GPS function. But you will get the alternative function called Altimeter and Barometer. It measures pressure in three-foot or one-meter intervals. This mode calculates long-term pressure that provides the most accurate reading. When you are mounting or hiking, the barometer gains barometric pressure, and the pressure changes with the weather. Once you stop elevation and stop gaining barometric pressure.
This feature is pretty cool for outdoor adventures. The altitude log is also an effective feature. It gives the log of your entire ascent, descent, and a number of runs. It measures how many laps you take for mounting or hiking. Actually, the altimeter tells your true vertical height gains. This mode shows the result of the past 7 days.
There is a graphical interface on the watch that shows both altitude and barometric pressure trends. It is the best addition to the watch. You can set the altitude and barometric pressure manually or set it to pass from one mode to another autonomously. When your vertical movement activates, the watch's altimeter will turn on at a determined level and it automatically switches the barometer mode.
The altitude and barometric pressure are extremely precise and accurate in the watch, but still, you feel the lack of GPS. Even you need an extra map to turn back in any area. However, altitude detection is more useful and accurate than satellite detection. It works in any area without any signal stability problems or low coverage.
There is another benefit of a barometer which is it includes a storm alarm that warns you to give an acoustic signal. It detects the pressure change in the air and announces the warning.
Suunto Core comes with a compass with adjustable declination. It is a straightforward function to use the watch as a digital compass. It displays the path with directional arrows. Moreover, you can set and lock the compass in a determined route or go to a specific destination.
Design & Display
This timepiece is a rugged tactical watch, build for extreme conditions. The whole watch is made with a composite material with Aluminum bezels that can endure vibration, shock, extreme temperatures, and long-term liquid submersion. The watch is rated 3 ATM which means it is safe under 30 meters of liquid.
The watch comes with a robust build and durable US Army compliant textile strap. Further, it is pretty comfortable while during long-wearing. No matter if you go hunting, fishing, hiking, running, walking, or doing your workout, the watch helps you to achieve success.
It is a round bezel watch with a digital display. The display features scratch-resistant mineral crystal glass for higher protection. But the display is not too visible in high-intensity light conditions, so it becomes hard to read. However, there is a red light mode to read the watch in low light. The overall layout of the display is clear with large menu icons and shows easy-to-read numbers.
Thermometer
Since the Core watch is made for outdoor usage, it includes all the necessary features. There is another useful feature is the built-in thermometer that delivers an accurate reading. It is an amazing feature in many situations.
But the body temperature can dissipate the watch result. It would be better if you remove the watch for 15 minutes and then check the accurate measurement. There will be no indifference from the actual environmental temperature.
Battery
The watch has a replaceable CR2032 battery that approximately provides 12 months life span. Changing the battery is super affordable.
Pros
Year-long battery
Easy to use
Straightforward interface
Accurate tracking of altitude and barometric pressure
Includes thermometer and compass functions
Rugged build quality
Cons
No GPS
Dim display
High price
Frequently Asked Questions (FAQ)
How long does the Suunto Core battery last?
Typically, the Suunto Core battery lasts for up to 12 to 18 months. But it depends on the usage. Using a compass and backlit consumes more battery than the other functions. So try to use these features frequently for extended battery life.
What can Suunto Core do?
Suunto Core has useful features to make your outdoor trip successful. Aside from telling time, the watch shows sunrise and sunset time. There are three modes: time mode, altimeter and barometer, and compass mode. These modes provide accurate information to track your activity. There is also a built-in thermometer that can read the actual weather temperature.
Does the Suunto core have a GPS?
No, there is no GPS function in the Suunto core watch. So you don't navigate maps in the watch. However, the altimeter and barometer provide accurate results depending on your activity. You can find out ascent, descent, and steps. Moreover, these results are more accurate than GPS.
Is the Suunto Core Durable Watch?
In the case of durability, it is tough to beat the durability of the Suunto Core watch. The watch and the band both are incredibly durable and still comfortable to wear. It has 30 meters of waterproof allowing you to have a shallow dive.
Read Also: SUUNTO 7 Smartwatch Review
Final Words
Suunto Core Watch is an outstanding watch for adventure lovers. It has some useful functions that will help you to reach your destination. The watch is built for extreme conditions. Whether it goes through heat, cold, freeze, thaw, humidity, drop, or dust, the watch will still give you useful and precise information.
Though many feel a lack of a GPS tracker. Since the watch has an altimeter and barometer, you can accurately track the highs and lows. Moreover, there will be no concern about signal down. Just you need an additional map to follow the path. Otherwise, the watch is eligible to meet your expectations.
As an Amazon Associate, I earn from qualifying purchases.