Garmin Instinct Solar Review | Best GPS Watch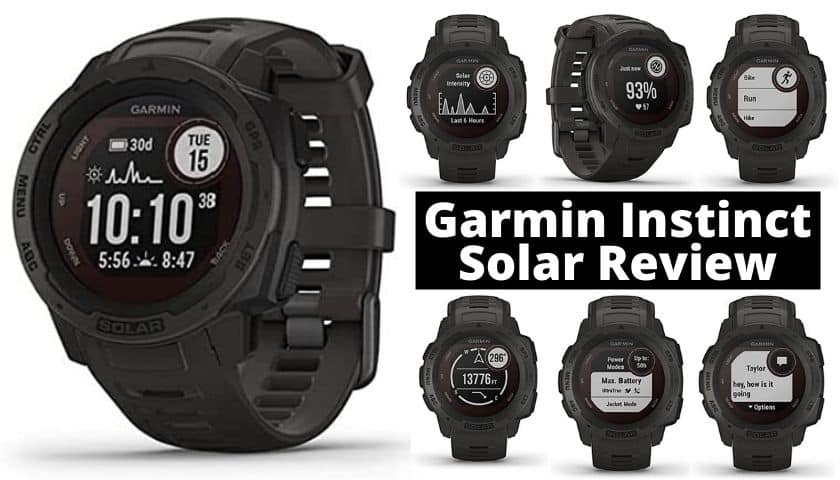 As an Amazon Associate, I earn from qualifying purchases.
Garmin has ruled the watch lovers' choice for years. And this one is no exception. Hereby we are ready to give you all the teas about the Garmin Instinct Solar review.
Garmin Instinct Solar is an incredible watch for a lot of activities, extraordinary interface, and battery life. However, it also offers the user many unique features that you cannot expect in this price range.
For people who care about the functionalities more than the look, this watch is perfect. So if you care less about the look and more about what it offers, dig in deep to know more about the watch!
Garmin Instinct Solar Smartwatch Review: Excellent Fitness Tracking and Incredible Battery Life
Key features
Comes with solar charging capabilities
Features built-in sports apps and health monitor
Helps you track your activities properly
Makes understanding your health and wellness easier
Introduces you to facts of your body you never knew
Garmin Instinct Solar Smartwatch
14 new from $229.99
6 used from $139.99
Free shipping
as of November 28, 2023 2:03 pm
1. Understand your health and body better
This might sound unbelievable to you but trust us that this watch lets you estimate every movement of your body effectively. You can estimate your stress level score with the heart rate variability feature of this watch.
The knowledge will help you realize whether you're having a stressful day or a calm day. You can even estimate your body movements during sleeping which is obviously a great opportunity to understand your health and body better. The watch takes care of your fitness activities properly by featuring incredible sports apps and instructions.
2. Solar rechargeable
The solar charging thing of this watch simply indicates extended battery life performance. That means while you're on adventurous trips, you don't need to carry another load for the charger which is a great hassle.
The watch will use daylight all by itself to be charged. It's fast charging yet offers you long-lasting battery life. That's not it, this watch can estimate how well your body is absorbing oxygen by using the light beams at your wrist with the OX pulse sensor of this watch, isn't that incredible?
3. Higher standard
We can't get enough of the fact that this watch can help you keep up with military standard time as well. Actually, it's constructed to U.S. military standard 810 to provide you with thermal, shock, and water resistance. You will get a robust feeling while wearing this watch.
This watch includes a built-in 3-axis compass, barometric altimeter, and GPS mode so that you can track yourself effectively in any corner of the whole world. The watch helps you know the weather beforehand and even offers you ways that help you to keep up with the weather. Finds you the best path during adventurous trips hence.
4. An advanced step in the fashion world
No matter how many features a watch can offer, all we care about in the first place is the looks of the watch. If that watch is attractive at the first glimpse or not. Well, this watch with its black elegant edges looks so classy and attractive.
Even though you might not feel that it can run a beauty contest, it can still stand a place in your heart with the design. The design is incredibly beautiful to wear anywhere you want. Overall construction is also top-notch and worth mentioning.
It would be wrong if we don't call this watch versatile since it comes with a neutral design that goes with every outfit. You can wear the watch with casuals, formals, and whatnot. Teenagers to adults all seem to be crazy about this watch because of its looks and advanced technological support.
5. Heavy-duty performance yet comfort provider
The watch is freakishly strong, it has strong construction so that it can defeat every particle that comes in the way of your adventurous trips. This watch is meant to tolerate rough usage during extreme situations. So you can go to trials, hiking, and mountain biking wearing this timepiece.
On the other hand, the strap quality, lightweight, and materials of this watch are there for you to make you feel comfortable, and to be honest, this watch is all-day-wearable. So you won't feel uncomfortable wearing it for an extended period. The bigger dial is easy to read as well.
However, you can download as many mobile apps you want to watch in its gigantic memory and connect all of your smart devices with the watch. It makes the whole experience swift. As a result, you will enjoy using the watch like never before.
Pros
Impressive battery life performance
Advanced Working out features
Great accuracy
Health & sleep monitor
Cons
Verdict
Say goodbye to those watches which hardly offer us the basics when you can get this incredible watch that meets all of your needs. This watch has been designed so smartly that anyone would fall in love with this wonderful watch. The GPS, built-in compass, altimeter, and barometer let you track yourself, find the best paths, keep yourself posted about the weather, and more.
The watch cares about your comfort too. It comes with a lightweight and all-day-wearability feature. The materials are heavy-duty and well-constructed as well. Moreover, the technologies, features this watch offers can't be provided by any other watch, we bet. That's why to get this watch and embrace your every journey.
Why did we've chosen this?
Struggling with not getting a reliable watch has been around forever, but this should come to an end and yea Garmin Instinct Solar watch has put an end to that issue. With all of its features, it's a great watch to serve you in any extreme situation.
It helps you to understand your body better by monitoring your sleep, body activities, estimating your heart rate or pulse rate, and much more. It's like having a medical solution wrapped around your wrist all day long.
The watch comes with a built-in compass, altimeter, and barometer. The smart connectivity feature of this watch lets you stay connected with the whole world from any corner of the world. It's a reliable, good-looking, advanced technology watch which we admire a lot.
The Best Things About Garmin Instinct Solar Watch
If you want to know the best features of this watch, first and foremost we must talk about the size and fitness purposes. The size is 45 mm in diameter and 53 grams in weight. You can wear it everywhere without feeling like you are carrying a heavy watch on your wrists, be it gym, work, or even while running.
The watch fits any average-sized wrist perfectly. The perfect fit ensures no fall-off from your hands and you won't fear breakage anymore. You can easily swap the bands and use any brand you prefer. As the manufacturers give plenty of material options, you can easily pick any one of those. The wide range of color varieties is appreciable as well.
The set-up procedure of the Garmin Instinct Solar smartwatch is quite straightforward. So it won't take much time even for a newbie to set it up. The clear instructions will lead you to a quick set-up of the watch.
The syncing process is super easy as well. You can instantly sync everything you want from your phone to the watch. Also, you will be able to enjoy a lot of activities like paddling, biking, hiking, hunting, walking, and rafting. You will be able to enjoy various running options which speak up for its versatility.
Another amazing feature of this watch is its health features. You can maintain a healthy lifestyle using this watch. It offers a few different running options, including outdoor running, indoor track running, and trail running to meet whatever challenges you set for yourself.
The watch will show you your heart rate, stress, sleep, and blood oxygen levels. So keeping your health as a priority will never be a problem anymore when you have this watch.
That's not all, you will have assistance from virtual trainers to develop your activities. You will also be able to see the burned calorie counts. Undoubtedly, this is everything you need when you want the best health and exercise routine.
Another interesting feature that this watch offers is the "TracBack" routing. It offers great tracking with the super-accurate GPS. The accuracy of this watch's GPS is a great upside to purchase this one.
Why Should You Buy This?
If you are an adventure-loving person, this is the one for you. You will be able to go-to trails, run, bike, and even climb while wearing this watch. The GPS will help you to travel anywhere with amazing accuracy. The tough design can handle everything on the way.
The solar battery is another impressive feature of this watch. So even if you forget to charge it, the sunlight will be enough to keep you going anywhere you want to.
The Downsides
We haven't found any downside of this watch. But one thing is, the style may not be as you expect it to be. This is specifically built for people who prefer measures overlooks. However, that doesn't mean that you won't get a good design from it. The design is good but not extraordinary.
Read Also: Garmin Tactix Delta Solar Watch Review
Frequently Asked Questions (FAQs)
Is it worth getting the Garmin Instinct Solar?
Garmin instinct solar watch is meant to fulfill all of your desires. It will be your companion during the extreme situations you face when you go on adventurous trips. The tracking, monitoring, and advanced technology features from this watch are everything to make your experience and journey better. So yeah this watch is worth praising.
How tough is Garmin Instinct Solar?
That's something you will realize eventually. But let us tell you that the watch can tolerate unpredictable falls and rough usage. Even the watch features military standard 810 to save you from thermal shock and obviously, that feature leads the watch to good water resistance.
Does the Garmin Instinct Solar work with the iPhone?
That's something Garmin instinct solar is good at, smart connectivity. It helps you navigate with your smart devices through your watch properly. You can get smart notifications from your iPhone as well.
Is Garmin instinct scratch-proof?
The military standard it comes with is good enough for making it scratch, thermal, and water-resistant already. Additionally, the strap is made with a polymer case and silicon material. So it's obvious that this watch is scratch-resistant.
Can you download maps onto Garmin instinct?
Use the mobile app and connect it to the Garmin Instinct watch and then you can navigate with the app through the watch. So yes you can use maps on Garmin watches. But for that, you don't need to download the app.
Bottom Line
Our Garmin Instinct Solar review is over and out now. We have shared every little detail about the watch for your convenience. It comes to the bottom line that this watch is incredible for fitness lovers. And you can expect it to be your best buddy when it comes to your health.
As we have used this watch for a couple of months, we can surely say that you will simply love everything that this watch offers. In addition, GPS accuracy will be an awesome companion to your daily life.
So, give everything a good thought and grab this watch. The simplicity will impress you for sure. Even if you are a new user, the installation won't bother you at all!
As an Amazon Associate, I earn from qualifying purchases.