Nixon Regulus Watch Review | A Tactical Digital Wristwatch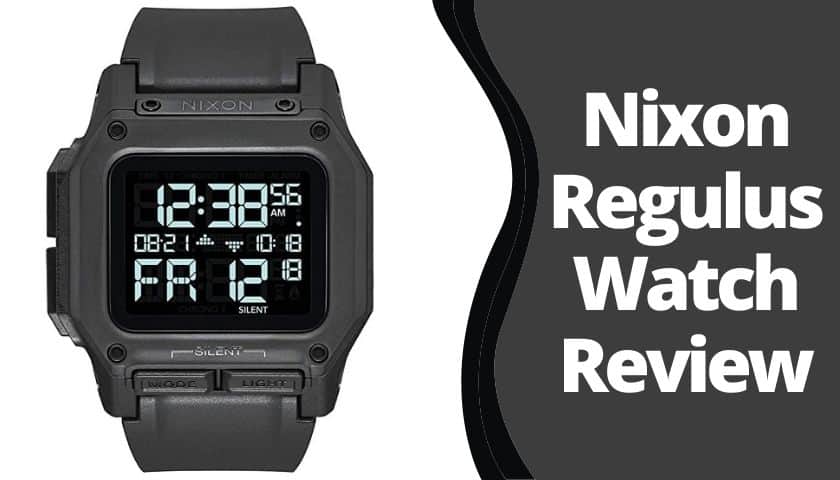 As an Amazon Associate, I earn from qualifying purchases.
The NIXON Regulus is an outstanding digital watch that allows you to enjoy life in a more intelligent manner. This watch was created in cooperation with Special Operations forces and is designed to handle any conditions.
When it comes to giving accurate data and timekeeping, this digital watch delivers a good performance. Learn why customers prefer this timepiece over other watches through this Nixon Regulus watch review.
Hands-On: Nixon Regulus Watch Review
Nixon is a reputed watch manufacturer whose objective and design were inspired by a desire to produce the watch that precisely reflected the youth's lifestyle. The Regulus, the company's most recent square-faced model, is, in our opinion, its best-looking model ever. Both the performance and the design of this watch indicate that it will withstand years of outdoor usage and abuse.
Product Specification
Case Diameter: 46 Millimeters
Case Material: Polycarbonate
Strap Size: Slandered Size
Strap Material: Silicon
Display Type: Digital Interface
Dial Window: Mineral Crystal
Movement: Quartz Movement
Battery Life: Up to 5 Years
Water Resistant: 100 Meters
NIXON Regulus Watch
6 new from $141.31

as of October 1, 2023 7:59 pm
Rugged and Sturdy Design
The design of this NIXON Regulus A1180 wristwatch is like a rugged watch. It has an excellent and fabulous appearance that everyone will appreciate. However, although this timepiece is undeniably stylish, it also has a competitive advantage in terms of performance. The funny thing is that looking at the design of this watch; you can mistakenly think of it as a Casio watch.
In addition, the 46-mm case is very bulky, yet it fits well beneath the arm of an oversized hoodie or sweater. Its elegant design allows you to wear it on any occasion all day long.
Built to Last
One of the things that most people pay attention to when buying a new watch is the durability of the watch. The overall durability of the watch mostly depends on the manufacturing materials of the watch. This elegant watch has been made of premium quality Polycarbonate plastic and silicon material.
Both Polycarbonate plastic and silicon are excellent materials to manufacture watches. These materials are also excellently durable and long-lasting. The bezel has been made of highly durable stainless steel. So, this build quality ensures good durability to the watch as well as keeps the watch scratch-free.
Casing and Strap
This digital watch features a 46 millimeters watch case that has been made of Polycarbonate plastic. Although a 46 mm case will not fit well on a small wrist, it will fit well in a big as well as average size wrist. When you consider the fact that the casing is thicker than typical, the watch is also quite lightweight.
The silicon-made strap of this watch is excellently durable as well as comfortable to wear. This strap features a locking looper system with a stainless steel-made buckle that ensures more security to the watch on the wrist. Consumers have a strong motivation to stick with this watch since the strap overflow is kept in place.
Easy to Read Face
If you are more prone to a digital watch instead of an analog one, this watch is the best way to go for you. It comes with a digital interface that is easy to read. This digital watch face includes a date, Chrono, timer with the timekeeping function. The Nixon wristwatch's designs are still more geared toward teenagers than older individuals.
Everything is highly visible under the sunlight. Moreover, the watch interface also has indigo technology that makes it easy to read the time in the dark night. This timepiece is designed to suit your demands in a variety of high-intensity work as well as play contexts, whether they are global or local.
100 Meters Water Resistant
Water-resistant is one of the most crucial aspects of any kind of wristwatch. The more water-resistant capability provided by a watch, the more water activity can be done with the watch. If you are seeking a watch that is suitable for minimal water activities, you should consider a wristwatch that has at least 50 meters or 5 BAR water resistance.
This amazing timepiece features 100 meters or 10 BAR water-resistant capability. So, there is absolutely nothing to be concerned about water activity with this watch. This watch is suitable for serious water surface activities like swimming, snorkeling, and showering. This extreme water resistance makes this watch a perfect one for day-to-day use.
Multi-Functional Wristwatch
NIXON Regulus A1180 is not only working as a watch but also has several exclusive functionalities. This watch has a dual chronograph, Alarm Clock, Timer, and date function. Those who understand whatever they want but don't have the patience to wade through a plethora of options will appreciate this trustworthy dual chronograph.
This is where we discovered that Regulus's double chronograph function is the most reliable and distinctive. Two water-resistant plastic pushers let you start and stop the system with a single button press. Holding down the button on the chronograph's reset button resets both timers at the same time.
Nixon has also included military time as well as the ability to use two different time zones in the module's functioning. An adjustable LED lighting and quiet mode are among the many features that make this alarm clock quite useful. The Regulus's main advantage is the simplicity and directness with which it is presented to customers.
Quality and Reliability
Now it is time to talk about the overall quality of this elegant digital watch. Built to be the last longer, this wristwatch is one of the premium quality digital watches in the market. This timepiece includes several excellent features that you need from a Chrono watch. However, in addition to being aesthetically pleasing, these timepieces are also functionally superior.
It is equipped with a quiet mode switch and a looper locking band, which provides security and comfort throughout every clandestine operation. Its 100 meters water-resistant capacity makes it excellently waterproof. The quartz movement enables the watch accurate timekeeping. Overall, this watch is one of the best and perfect ones for a digital watch lover.
Pros
Elegant design with premium materials
Excellently durable and comfortable to wear
Easy to read Face in a day as well as at night
This watch provides excellent battery life
Cons
This one is a bit expensive than other digital watches
It may not fit well for a relatively small wrist
Frequently Asked Question (FAQ)
How good are Nixon watches?
Nixon timepieces are often regarded as high-quality, stylish timepieces. If you're acquainted with the Fossil or Casio watch line, you'll find that the quality of a Nixon wristwatch is comparable.
How thick is the Nixon Regulus?
NIXON Regulus is an elegant watch that comes with an average size case design. Its case diameter is 46 mm, and its thickness is 16 mm, and it is suitable for an average to large wrist.
Is Nixon Regulus good for swimming?
Nixon Regulus wristwatch comes with excellent water-resistant capacity; 100 meters. This capability makes the watch suitable for serious water surface sports like swimming, snorkeling, showering, etc.
What is the warranty for a Nixon watch?
All Nixon timepieces are warranted for two years against flaws in the watch's materials or workmanship. When a Nixon product is purchased through an authorized merchant, the warranty starts on the day of purchase.
Final Thought
After this Nixon regulus watch review, we can claim without any doubt that this digital watch is one of the best wristwatches in the market. This timepiece comes with such a durable design that it is suitable to use in any condition. It has been crafted with a set of exclusive features and offers reliable performance. If you are looking for a digital watch, this one will be the best option for you.
As an Amazon Associate, I earn from qualifying purchases.