VTech KidiZoom Smartwatch DX2 Review | Kids Smartwatch of 2022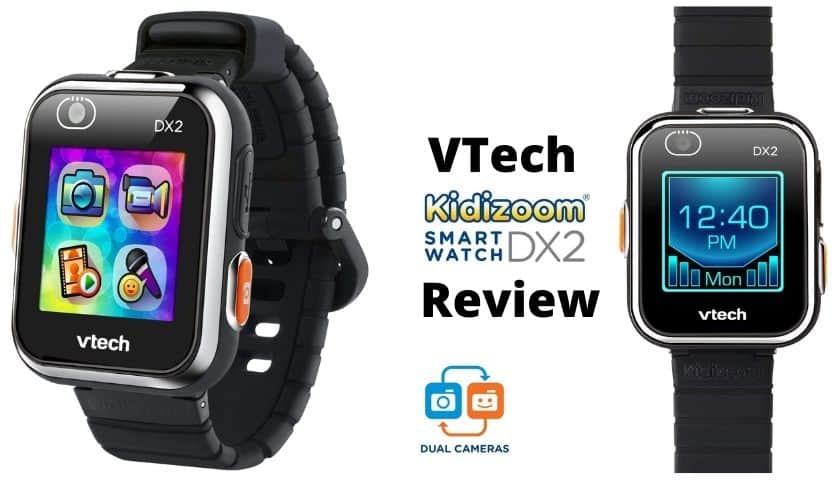 As an Amazon Associate, I earn from qualifying purchases.
Kids are more interested in a smartwatch instead of an analog one. The VTech KidiZoom DX2 Smartwatch is the best way to go for them.
It is one of the popular kids' smartwatches in the market. It includes several exclusive features and functionalities like an alarm clock, cameras, Voice recorder, calendar, and many more. This smartwatch is a terrific method to help youngsters learn to read time with various watch faces which contain games for fun.
VTech KidiZoom Smartwatch DX2 review
The VTech DX2 is a smartwatch that is designed for children. While most smartwatches are designed to work in conjunction with smartphones, this smartwatch functions in its way.
Product Specification
Casing: Silicon Rubber
Strap: Silicon Rubber
Interface: Kid-Friendly
Camera: Dual 0.3 MP
Storage: 256 Megabyte
Battery Life: Up to Three Days
VTech KidiZoom Smartwatch DX2
2 new from $69.95
4 used from $51.97
Free shipping
as of October 2, 2023 12:16 am
Kid-Friendly Design
Because this product is intended for children, it is available in a variety of unique and funky patterns. The belt that goes around the timepiece itself is comfortable and non-irritating, making it ideal for a child's little wrist.
This edition, the DX2, is perhaps the most recent iteration of the model, and it has several exciting new features that the prior model did not have. A good-sized screen will undoubtedly keep your kids amused for a long period of time. The color selections include several colors and a variety of additional hues and combinations.
After all, children are drawn to anything that is brightly colored. The watch bands on this product are sadly not detachable; however, the face of the device is splash-proof.
Durable and Comfortable
This fantastic smartwatch for children has been created using only the highest-quality materials available. Both the casing and the strap have been manufactured from high-quality rubber. In terms of watchmaking materials, the resin is a fantastic choice because of its exceptional durability and scratch-proof functioning. As a result of the construction quality, this watch is very sturdy and long-lasting.
In terms of comfortability, there is no lacking in this kids' smartwatch. The convenient casing size with silicone rubber will fit well on your kid's wrist and provide maximum comfort. Its lightweight design allows the kit to use the watch from day to night; they will never feel boring.
Ease of Use
Children's smartwatches should be simple to use; otherwise, they will not be able to take advantage of all of the functions of their watch. This watch has a very straightforward user interface that is simple to navigate and utilize. Because it offers a user interface that is suitable for children, this wristwatch has all of its functions readily available.
For the very first time, establishing a smartwatch is a simple process. The touchpad and multi-function keys are simple to understand and operate, and they provide speedy results. Take a snapshot on the go by pressing the shutter button. This wristwatch may potentially be used as a learning tool. Whenever the clock is touched on, the owl announces the time across both digital and analog modes. This requires the assistance of an adult.
Take Picture and Record Video
One of the interesting features of this kids' smartwatch is that it includes two cameras. The watch will allow your kids to take amazing pictures as well as selfies with this watch. However, this camera is only 0.3 MP but is functional for a gadget that is not meant to be utilized as a camera.
Also, they may record in either 160p or 120p resolutions. Remember, this is a low-quality video, but it will appear good when seen on a smartwatch screen. This smartwatch also has an influence on the photographs it captures. 'Using the gadget, children may apply their stamps and effects to their images and videos.
Games on this Smartwatch
For children to enjoy, the KidiZoom includes two distinct sorts of built-in games to choose from. There are "conventional" games, for want of a better term, in which everything takes place on the screen, as well as AR games, which employ the cameras to transform the actual world into the scene for a game. Three classic games are added to this smartwatch, which is a nice touch.
"Ancient Adventure," as well as "Puzzle Swap," are among the games on offer. The AR games are focused on utilizing the camera to show monsters inside the surrounding area and then attempting to capture as many of them as possible. The incorporation of an augmented reality game on a kids' wristwatch is a fresh concept that is certain to appeal to the children who receive this wristwatch.
Battery and Charging
Battery life is among the most crucial aspects of every smartwatch, and it defines how long you will be able to use your smartwatch continuously. This smartwatch for kids features a handy battery life. The manufacturer claims that this watch's battery will last up to 2 weeks with light use.
However, with heavy use, it will last two to three days which is pretty good. Users are satisfied with the battery life of this watch so far. With the provided Micro-USB connection, the battery may also be recharged. The USB connection on your computer is the preferred method of charging, although you may also use a power outlet.
Other Features
This smartwatch is a highly functional watch in the market. It includes several exclusive functionalities like a calendar, alarm clock, timer, voice recorder, and many more. This watch also includes Vtech Educational Library Access and Learning Lodge for eBooks that will be very helpful for your kid.
This handy gadget has a storage capacity of 256 MB, that's enough to save around 1,500 photographs somewhere between 10 and 25 mins of video, depending on the quality of the recording. As a result, we are certain that the storage space will be plenty for any quick, cheerful child.
The parental control tool is just another excellent feature that we can't imagine living without. If you are concerned that your kid may play or consume for an excessive amount of time, you can restrict the amount of time spent playing.
Performance of the Watch
The kid smartwatch is a fantastic interactive instrument in terms of its features and functionality. The fundamental functions of this super smartwatch are included, as well as a few extra ones.
A good-sized screen will undoubtedly keep your child amused for a long period of time. Kids will benefit much from this offering, which is both visually appealing and educational. But a downside is that this smartwatch has no GPS and voice call function. But in this price range, this watch offers many more like a pro.
Value for Money
This smartwatch is reasonably priced, and there are a number of vendors that provide competitive pricing. Take a peek at what's available online. Having said that, the consumer would want it to be equipped with GPS.
When shopping for smartwatches, many parents hunt for this function since it gives them the ability to monitor and track their children's locations if they so want. If your kid is older and spends more time outside the home, we recommend looking for a GPS-enabled watch.
Pros
Excellent and Kid-friendly watch design
Two cameras to take picture videos
It includes 3 amazing games to play
Excellent educational watch for Kids
Affordable but premium in quality
Cons
The camera quality of this watch is not good
This watch does not come with a GPS system
Frequently Asked Question (FAQ)
What age is the VTech KidiZoom DX2 for?
The VTech Kidizoom smartwatch dx2 has been specifically created for kids, and it is the ideal piece of timepiece for kids. Its design is suitable and perfect for kids of 4 to 12 years old, and the watch will fit well with them. Its bracelet is appropriately fitted for children's wrists and is secure as well as comfy.
Can you text on a VTech DX2 watch?
The VTech DX2 is a popular smartwatch for kids. This smartwatch includes several exclusive features and functionalities. But there is no function for text or massaging in this watch. So, you can't text or send a message with this watch.
Is VTech DX2 waterproof?
The VTech DX2 smartwatch is a bit water-resistant, rainproof as well as sweatproof. This functionality makes this watch suitable for day-to-day use. However, it should not be submerged and should not be used while showering or bathing.
How many games does VTech watch have?
Play three console games, with much more available for download. It has a motion detector, a pedometer, as well as other features. More applications and other resources are available for download. Make a recording of your voice and add some amusing vocal effects.
Final Thought
According to this VTech KidiZoom Smartwatch DX2 review, this kids' smartwatch is one of the popular smartwatches in the market. Designed for kids, crafted with several amazing features, its kid-friendly interface will keep youngsters interested in this for a long time after they have finished with it. Maintaining the battery life of this toy watch is essential, as is exercising patience while interacting with the very tiny Power button.
As an Amazon Associate, I earn from qualifying purchases.