Amazfit T-Rex Smartwatch Review | Military Standard Certified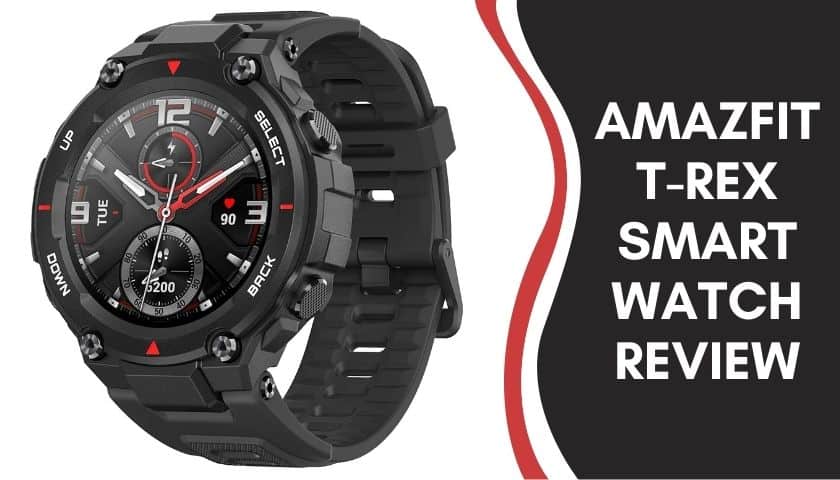 As an Amazon Associate, I earn from qualifying purchases.
Amazfit T-Rex Smartwatch is an outdoor sport related to GPS systems along with a highly durable battery condition. It will only cost a low price, and yet it will be a great design. This is not a design for everyone, and it has specific customers related to it depend on its usage.
These watches are highly graded as a military usage watch as it is usable for challenging environment. It can be used in very tough situations, and it has a mere design that is not suitable for everyone.
Amazfit T-Rex Smartwatch Product Specifications
Model: Amazfit T-Rex Smartwatch
Product Brand: Amazfit
Applications supported: Email/Social Media/Fitness
Tracker/GPS/Calendar/Time: Display/Weather/Sleep Monitor/Pedometer/Heart
Rate: Monitor/ Alarm/Reminders/Elevation Tracker/Phone
Standard Wireless Communication: Bluetooth
Connectivity Technology: GPS, Bluetooth, CNSS
Operating System: Amazfit OS
Battery Life: 390mAH
Screen Size: 1.3 Inches
Input Method: Touchscreen
Water Resistance Capacity: Water-Resistant
Amazfit T-Rex Smartwatch
1 used from $149.99

as of November 28, 2023 12:11 pm
Amazfit T-Rex Smartwatch Detailed Description
If there are wearable low-cost smartwatches, Huami is the best one you can choose to buy them. Huami has paid attention for a long time to producing low-cost items, and they have now turned into GPS port possible things.
So with the Amazfit T-Rex Smartwatch, it has gained a new turn with GPS features, and it has a changeable product specification than their previous designs. Here are the detailed features of this smartwatch.
Price and the Availability
These all watches are coming in one size. We have already tested the Gun Grey Model of this watch, and there are several versions to select. Versions ar Khaki, Camo Green, Rock Black, and the Army Green.
Amazfit T-Rex Smartwatch has a large display on it and comes with an onboard GPS. GPS is a compass build one and it has outstanding durability to survive in any kind of harsh environment.
Most sports watches are coming with amazing battery life, which is familiar to this watch. This watch's battery life is impressive, and it comes with several sport modes and sleep tracking.
Comfortably features and the Design
We have already tested an Amazfit T-Rex Smartwatch by buying it from Huami, and it had a somewhat thick measure case within it. Case measure has measured up to 44 millimeters, and there were metal screw heads to emphasize the hard exterior.
And also, there are several buttons with some textured quality and guard pieces within them.
You will see four types of buttons labeled around their watch case, and those are for select, go back, for up, and for down. There is a bezel in this watch, and it is a design of bumper. The bezel's purpose is to protect your screen and it has a covering of a Gorilla Glass 3.
The bezel has a coating of anti-fingerprint. Some people may find this glass disturbing because it can make the watch so bulky.
When I try the Amazfit T-Rex Smartwatch, I feel this bezel covers as so irritating, but it would not feel the same for other people. When it is with my sleeves got, I feel like it is testing my anger issues because it is somewhat irritating.
I don't know how to place this part comfortably on my hand. But it will be something only I feel because my hands are smaller than the other.
I find it so comparable for people with large wrists, and they didn't even complain about its weight. They found it very relaxing due to its light feelings. So the problem will be my wrist.
So Amazfit T-Rex Smartwatch has a lot of compliments based on the person who wears it.
Let's talk about the watch's durability. When talking about that, it is the most appreciating feature holds by the Amazfit T-Rex Smartwatch, and it comes specifically through the hardware of this watch.
Military Standards
This watch has military standards, and we can say that Amazfit T-Rex Smartwatch military-grade certification rates for 810 rates for the environments in for hostile.
We mean from the military-grade certification that this watch can stand against temperatures from 158 degrees to 104 degrees Fahrenheit. You can submerge this watch into 165 feet.
As I wear this in New York for a month with various outdoor activities, the life in a month of this watch is pretty impressive, and it didn't harm its durability features.
I couldn't feel an excellent quality regarding the watch's band quality, and it was so much rugged feeling in the case. The watch's plastic clasp seems to be snap, but the silicon strap is stretching every time. But you should know that this watch has a durability certificate for the product.
What is feel lucky is there is a changeable strap in this watch. You can replace them if you want and there will be no less confidence to wear them.
Display and the Interface
There is a colorful AMOLED touchscreen in Amazfit T-Rex Smartwatch, and you can see through it even you are in direct sunlight. It is consisting of 1.3 inches and pretty much adding a more expensive look to the watch.
There is a radiant look for this smartwatch, and it results for shine the black and white screen of the watch interface.
You need to know that interface of this watch is not so inspiring. But it is not a bad thing to consider, and a lot of low-cost watches are trying to be impressive from their complicated designs.
It is OK to have an everyday look with Amazfit T-Rex Smartwatch because it is worth more than usual. Navigation is through the screen swiping in any direction. Or you can use the physical button to swipe through the screen.
You can launch the activity menu in more manageable steps, and it lets you control music, set alarms and reminders, and perform countdowns as well. You can also put the compass in here to check the weather or to ping.
Amazfit T-Rex Smartwatch's watch faces will never go with outdoor aesthetics, and they are not appealing. It is more likely to give a robotic feeling, and nothing is set for customizing. You will only customize with the weather.
If you are a person who likes to get more information in seconds, he will be the best person to suit with this watch based on my opinion.
Tracking Features
Most of the sports watches are for runners, and they aim for runners. This watch is specially designed for an outdoor person with capabilities for GPS and Compass.
These features are especially being helpful for hikers and climbers as they should not lose their tracking. So this watch will eventually become their guidance.
As per my experience, I love the Amazfit T-Rex Smartwatch feature to have my track and give me the right direction. You should know that this watch is highly known for its data accuracy. If I become lost, I can get in the right direction through my GPS features on this watch.
There are also swimming, cycling, trekking, skiing, catch-all exercises, trail running, and indoor treadmill facilities are included in this watch.
It doesn't count on what action you choose, and always you can have a measurement meter to calculate your duration for the workouts, speed limits, and distance., there is an altitude meter to track all elevation gains.
Using these all measurement facilities can be done by using the up buttons and the down ones. If you are out of work and not doing anything, the watch will automatically lock its screen to avoid any additional taps.
Heart Rates and Sleep Cycle Calculations
In case of need to check heart beet, no problem, use this watch to calculate that rate at any time.
You should know that Amazfit T-Rex Smartwatch offers its users the feature of visual heart sense, and it will issue you a warning in the case where you get unexpected rates that might be dangerous to your health.
Remember, this feature will activate only in the times you are not working.
This watch can track your sleeping cycle. It intimately calculates the snooze quality and gives you clues about your sleep. You can set it to assign a score for the sleep and give you a quality sleep analysis report in the end.
Accuracy
As per my experience, most of the tools designed to track sleep are inaccurate. But this watch is different, and I can trust it because it usually follows the correct time of my sleep. As my sleep schedule is very low, this watch has advised me to get a 9-hour sleep as it is spent most of the time on Facebook.
So when considering the accuracy, it is believable kind for this watch, and you can keep your guarantee onto it. No false information like other tools, and most of the time, it is so accurate.
Pros and Cons
If you are in need of buying this, there are many advantages related to this product as follows.
Pros
This smartwatch has an impressive battery life with along 20 days with its charge
There are military-grade features included in this product, and it is not going to be messed with you any time
GPS tracking is the best quality tool for the tracking
Have an impressive accuracy
You can measure your health progress by the Heart rate Monitor
Water resistance and its depth into 50m
As every product has some cons related to it and here are those.
Cons
Sometimes the watch may take some time to set up and sort out
Some of the ap settings are not available within it
Read next: Best Waterproof Watches For Men
Is Amazfit T-Rex worth it?
Amazefir T Rex smartwatch is an excellent value for the money you paid, and it has outstanding durability within it. This kind of battery life is not coming with another product, and usually, the money you spend on this becomes worthy due to its unique features.
This product's ultimate design and military-grade certifications will not come with another product, which is excellent for buying.
Frequently Asked Questions (FAQ)
Can Amazfit T-Rex connect to strava?
Yes, it can. It will use a Zepp app fr it, and every new activity you deal with the watch is going to sync into your starve account automatically. Starve is available for both Android and iOS.
Does Amazon own Amazfit?
It is only the same name, and AMzefi belongs to a separate company. Amazon is only selling these products, and the only common thing is they use similar terms.
Does Amazfit T-Rex have swimming mode?
As there are 14 built sport modes available with this watch, you can use it for swimming in the pools or open water. So it can meet the several needs of athletes and dive into 5ATM.
Conclusion
A package of functions comes with the Amazfit T Rex smartwatch, and what makes it a great sell is that they offer many features. It becomes so unique due to their excellent price as well. This watch is a brilliant tool for a crowded market to make it sell more, and you will never get these features at this price from another watch.
As an Amazon Associate, I earn from qualifying purchases.