Letsfit Smartwatch Review | Affordable & Functional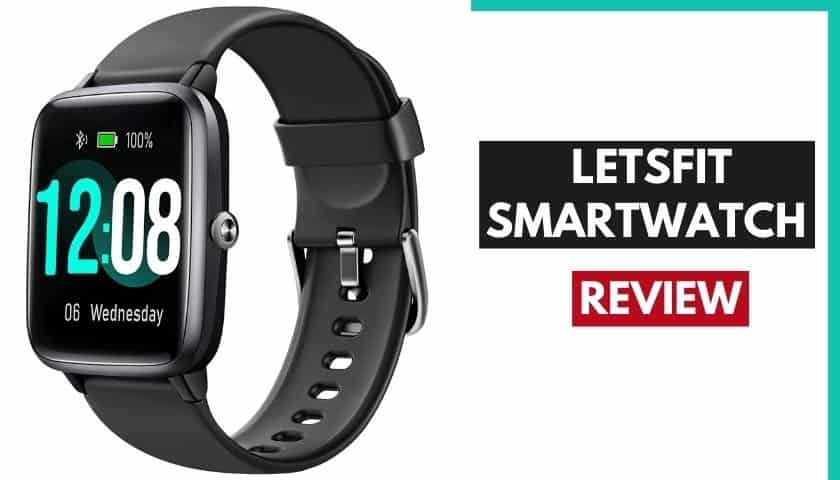 As an Amazon Associate, I earn from qualifying purchases.
Those who search for affordable yet great features in a watch cannot be found quickly, and it is harder to find a watch like that. If there is a watch which has all the features, it surely at a high price. Here we have an option as Letsfit Smartwatch.
Letsfit Smartwatch is coming to the market as the best cheap smartwatch, and it is one of the best watches came to the market so far. This is a watch that comes with many waterproof values, activity tracking, and with great compatibility. And these all features come at a low price for both users on Android and iOS.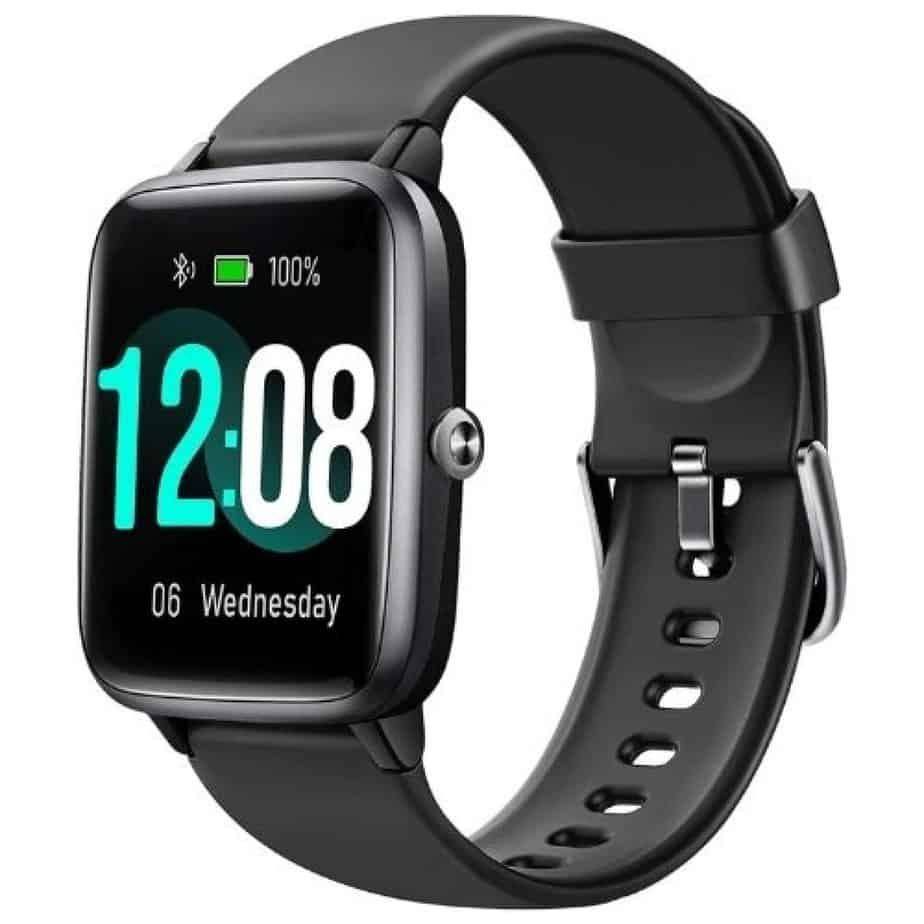 Letsfit Smart Watch Product Review
Model: Letsfit Smart Watch
Product Brand: Letsfit
Applications Supported: Find my Phone, Fitness Tracking, Emails, Sleep Monitor, Alarm, GPS, Calendar, Multisport, Tracker. Heat Rate, Pedometer
Standard Wireless Communication: Bluetooth
Connectivity Technology: Bluetooth
Operating System: Android 4.4 and above, IOS 8.0, Bluetooth 4.0
Battery Life: 390mAH
Screen Size: 1.3 Inches
Input Method: Touchscreen
Water Resistance Capacity: Water-Resistant
Letsfit Smartwatch Detailed Description
This watch is best known as a budget-friendly one, and it has built-in features to act as the best smartwatch with a heart rate monitor. It is overall support for every notification coming from social media and f phone calls as well. Compared to other smartwatches, this Letsfit has slimmer and lightweight features considering its high-end manufacturing.
If you are a person who is more interestedin basic features and the best smartwatch fitness tracker, this one is for you. So there are multiple features included in this watch, and let's identify them as follows.
Price and the Availability
Letsfit Smart Watch is coming under a low price compared to other smartwatches, which have the same features. So there is no high-end price set to this, and you can buy this watch at a low price.
Turquoise green colour with a Turquoise case
Purple with a Rose Gold case
Emerald Green with a Rose Gold case
Light Pink with a Rose Gold Case
Dark Blue with a Black Case
Black with a Black case
Design and the Specification of Letsfit Smart Watch
From the way this watch appears, it is more showing similarities with the Apple watch. It looks exactly like an Apple watch from first sight. In Amazon, you might cheat for this watch on any private labelled apple watch.
There is a rectangular case in this Letsfit smartwatch, and it comes with some round corners within it. Watch's face is a shiny glass, and it has buttons like a pseudo digital crown on the right side of the watch. There is also a bezel around this watch, and it is slim. The real display of this watch is LCD 1.3 inch squared in shape.
So far, we can say the watch display is an excellent design, and it is a bright, crisp mode. You will experience very responsive taps, swipes, and wrist flick with this watch, and it is so easy to navigate within the watch's interface. A more straightforward interface gives much comfortability to its users.
If you need to find more of the apps within the watch, swipe into the left. And if you need to move onto the quick settings, it is the right swipe. Notifications are on the up swipe, and activity data will be on the down swipe. Side buttons or the digital crown are for taking you to the main screen, and it can turn on or of your display.
As we mentioned earlier, the design of this watch is showing many similarities to the apple watch, and it is more flatter than the apple watch. The case of the letsfit smartwatch is made out of plastic, and you can easily install its straps by any generic released watch bands.
Features of the fitness and the watch's performance
We never expect a cheap watch to be so accurate because they do not come to the market like that. But in this best smartwatch fitness tracker, you get them all. So you don't need to think twice about this watch, and it comes with the all benefits features for its users.
There is a fitness tracker included in the Letsfit smartwatch, and there are several metrics to it. You can track your distance, step counts, burned calories, sleeping, sports mileage, and heart rate. This best smartwatch with Heart Rate Monitor can set up to 24 hours for monitoring.
You can use your GPS on the phone to connect two devices to the watch. Walk, run, climbing, hike, bike, yoga, treadmill and spinning are the workout modes on this watch. If you use this one of four modes actively, GPS connect works, and it is an impressive feature to the watch to save battery life.
Apps and the Notifications
His watch is pairing up with the VeryFitPro app, and it makestheusers navigate when they are setting the watch and toggle the notifications. This app is acting way like a fitness tracking, and it can give an overview of your sleeping, heart rates and activity.
Setting up this app can share the data with Starva or Apple health, and those are helping you track your fitness data in a better way. There are many alerts and notifications you can set up in this app, and phone calls, texts, emails and many social media apps notifications are coming through this.
App on this watch can set up the events in the calendar and alarms too. The most impressive thing about the Letsfit smart wa=tch is its third part app supporting. It supports Viber, Telegram, Line and Kakao Talk.
Battery Life
When talking about the battery life of the Letsfit Smart Watch, it is more impressive for regular use. It will last for about four months on standby (when not in use) and known to bear an epic life regarding its battery. Letsfit smart watch's stand by charge for advertised is between 30 to 40 days.
You can charge your device battery using a USB, and it is a built-in feature for this device. If you need to charge, it is better to directly remove the bands and put your trackers to the USB port. You need to add no extra charging codes for your personal use as this is compatible with a USB cable.
Make sure to check the battery symbol when you charge the watch. If it doesn't appear, it means it is not charging.
Pros and Cons
As per all the devices, this smartwatch also included some pros and cons as follows.
Pros
Affordable Price
Attractive
Batter life is superb
The app called VeryFitPro in this watch is syncing with apple health
A dozen of health monitoring
Cons
VeryFit Pro app is not going to translate for you perfectly at sometimes
You can also read: Amazfit T-Rex Smartwatch Review
Frequently Asked Questions (FAQ)
Is Letsfit Smart Watch is worth it?
For those seeking an affordable yet featured smartwatch, this is the perfect option, and for that reason, Letsfit Smartwatch will be worthy at any time. There is an ideal battery life included in this, and the features are excellent for buying this watch.
Is Letsfit a good brand
Compared to other high-end products, the Letsfit smartwatch is a good brand due to its affordability and its features. It is the best option on a smartwatch for a low price.
How accurate is the Letsfit smartwatch?
It is not going to be inaccurate and inconsistent. Most of the times, it gives the correct calculations for the heart rates.
Can you text on a Letsfit smartwatch?
Users can text on the Letsfit smartwatch, and you can see those on the screen when you switch the apps on. The main focus of this function is the notifications, and it does read the notifications rather than reading the whole message.
Is Letsfit smartwatch waterproof?
Yes, this watch is waterproof. You are free to engage in swimming while wearing the Letsfit smartwatch.
is letsfit smartwatch compatible with iPhone
Yes, it is compatible with iOS, and there are some features like messaging and social media.
Conclusion
If you want to invest in a better yet cheap product, you defiantly should invest in this Letsfit Smartwatch. It is slim and comfortable compared to other products in this price range, and it has some impressive features to catch up with all the users.
As an Amazon Associate, I earn from qualifying purchases.