Coros Apex Review । The Best Affordable GPS Watch For Runners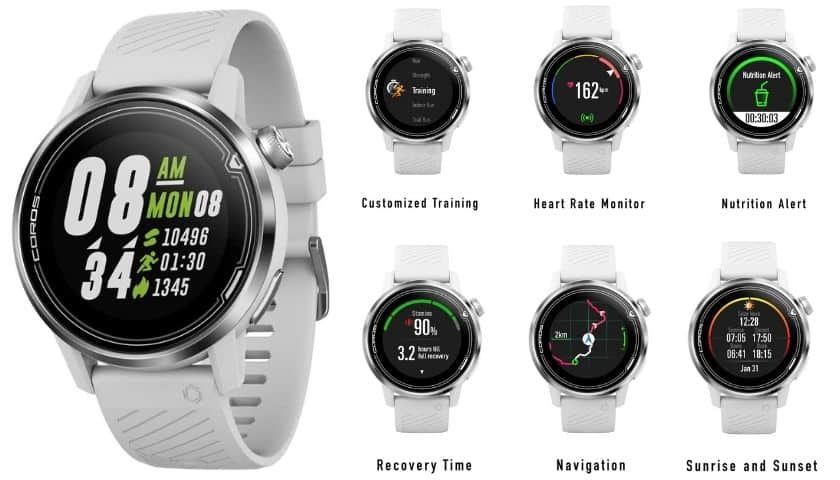 As an Amazon Associate, I earn from qualifying purchases.
Coros Apex covers the title of a fully-featured GPS smartwatch at an affordable price. It is designed for all runners to offer data buffs. It is a great choice for those who love the simple, elegant design with a great deal.
GPS is not only the key feature in the Apex watch. There are many other features to enhance your experience. In this Coros Apex review, you can uncover all the features and specs of the timepiece.
Coros APEX In-Depth Review 2022
Coros Apex is a multi-sports watch to help in the track of any athlete. The performance and improved specs make your life easier. The brightest point is there are no pre-loaded layered maps or extras, you can feature your watch defying your needs. Let's find more in the below part.
Coros Apex Specifications
Watch Size: 1.77 x 1.77 x 0.57 inches
Weight: 59g
Display size: 240 x 240 pixels
Input: Physical Button
Strap material: Silicon
Waterproof rating: 10 ATM
Battery life: 25 hours
Design
It is really surprising that a GPS sports watch is not too bulky and chunky like others. The Apex watch is not too huge, and heavy on your wrist, so you will feel comfortable wearing it. Its minimal, unfussy design simply looks smart on your hand and is suitable for everyday wear.
This smartwatch carries a round chassis with thin bezels. The build quality is pretty strong with the stainless steel bezels. There is a sapphire glass screen that is durable and scratch-resistant. Moreover, the silicone strap is light and comfortable and you can wear it all day long without any stress.
Interface
Coros Apex does not have a touchscreen and you can control using a button and dial crown. No worry if you are left-handed, you can rotate the display in 180 degrees through the setting option. However, it is so simple to navigate the watch with these two inputs.
You may need some time to get used to it as the display auto-locks after a certain time and you need to screen in one spin to unlock the functions and further usage. For the first time, it may become an issue but you will used to it. However, the auto-locking system is useful as it prevents the risk of accidentally stopping the GPS tracking in mid-running.
Furthermore, turning the dial you can easily access the menu options that are very satisfying, and press it to confirm the option. The only button that helps to back you in the previous option, pause screen and skip to the next session. Overall, it is a relaxing session for you. You can change the interface from multiple screen choices at any time.
Functions
Coros Apex smartwatch can track everything that true athletes want. There are plenty of options to monitor your every movement — speed, time, elevation gain/loss, weather estimates, calories burned, fitness level, and heart rate monitoring. Here are some useful features:
Strength and training mode: It helps to build your own complex workout and track your training. There are over 200 pre-loaded featured exercises workouts in the COROS app.
Chart your path: During racing or running in unfamiliar locations, you can navigate your path using the preloaded route on the watch. You can read real-time information, elevation, and alerts.
Heart-rate monitor: The watch features an onboard optical heart rate sensor to display your heart rate with zone breakdowns. The information is just as accurate as other chest-worn heart rate monitors. To ensure an accurate HR monitor, wear the watch tightly on your wrist.
GPS: GPS is the key function of this watch. It can track 24 pre-set activities including ascent, descent, pace, distance, and so on. Moreover, the Signal Strength tool displays your strength level based on your location.
Sunset and Sunrise tracking: You can access the time of sunset and sunrise and be knowledgeable of how much period is left in the day. The clock brightness is also adjusted 1 hour before and after sunrise.
Storm Alert: It notifies you if there is any possible storm imminent. The data is based on barometric readings which are more accurate and there is no need for an internet connection. It keeps sound or vibrates to alert you.
Nutrition Alerts: It tracks your nutrition level and notifies you with alert and vibration when you need to take nutrition on a long run or race.
AI Trainer: It measures the energy after your aerobic and anaerobic actions and displays an evaluated time until your body rebounds to full stamina.
Other functions: There are all the basic functions like time, alarms, altimeter, compass, pedometer, activity alerts, and much more.
Read Next: Best ABC (Altimeter, Barometer, Compass) Smartwatches Review
The COROS App
The Coros software helps to control the watch and get all the tracked data via the phone app. Connecting with the app takes a minute. You can set your daily goals of burning calories, working out, minimum step number, and much more. And you can connect multiple Coros watches to a single handset.
You can see your activity in simple graphs and detailed maps of your recent runs. It also gives the data of your pace and heart rate to track cadence and estimates your stride length. Overall, it gives all your activity that is tracked via your watch.
Waterproof features
Since the watch is designed for athletes, it has a waterproof feature. It is waterproof to a depth of 100 meters so you can wear it in rainstorms, swimming, or diving. There will be no water damage. Moreover, the sapphire glass is scratch-resistant and ensures long durability.
Battery life
Coros Apex stands out when considering the battery power. It gives an ample amount of juice for incredible performance. The watch provides 25 days of battery power with regular usage and 25 hours with GPS tracking. With the GPS mode, the watch provides long-lasting battery power. It assumes only 70 minutes to fill the juice fully.
Pros
Slim and lightweight design
Stylish and comfortable band
Clear and durable display
Accurate GPS tracking
Effective functions for athletes
Long battery life
Waterproof for 100 meters
Cons
The screen is quite dim for outdoor usage
Frequently Asked Questions (FAQs)
How accurate is the Coros Apex?
Coros Apex always provides almost exact information based on your activity and weather conditions. The GPS system shows result in just 45 minutes which is really fast. For outdoor lovers, this watch is the best choice.
Is Coros Apex worth it?
When it comes to functions and battery life, the Coros Apex is worth the price. The functionality of this GPS watch is useful and precise for outdoor lovers. Further, it gives 25 hours of battery life with GPS mode that is incredible.
Does Coros Apex have a touch screen?
No Coros Apex doesn't have a touch screen. There is a dial crown and a button to navigate the watch. Frankly speaking, these methods are so simple to access the menu and jump to another option. There is no risk of stopping GPS when you are running or racing until you manually turn it off.
Final words
Corso Apex watch provides great value for the money. This gear provides suitable features and functions at half of the price compared to the closest competition. Moreover, the compact design and durable quality are deserving of the best GPS watch.
As an Amazon Associate, I earn from qualifying purchases.