Fitbit Ionic Smartwatch Review | Designed for Your Life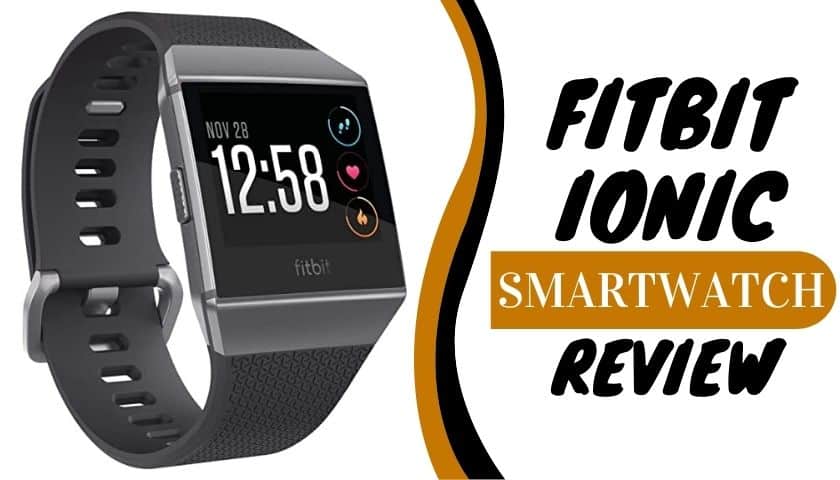 As an Amazon Associate, I earn from qualifying purchases.
Although Fitbit has manufactured several timepieces up to now, it is not as similar as the Fitbit Ionic smartwatch. This timer is designed for your life. It is personalized guidance and insights. Your favorite songs and apps consist of all the features you love from Fitbit. In fact, this is the watch you have been looking for.
This timepiece is Fitbit's first full-featured smartwatch, making it one of the best fitness and health smartwatches. Let's learn more about its features through this Fitbit Ionic smartwatch review.
Fitbit Ionic Smartwatch – What makes it Unique
What do you need in a smartwatch? It is full of all the impressive features that make it a competitor of the Apple Smartwatch. The incredible thing is you are getting a full-featured timer. Though it is highly-priced, this is a value for the money product. Till now, this is Fitbit's best-looking smartwatch.
Technical Details and Specifications
Product Dimension: 38.59mm x 12.2mm (width x thickness)
Product Weight: 30g
Casing: Aluminum
Display: 1.4", LCD (with 1000nits Brightness)
Watchface: Digital, Analog, Custom
Screen Resolution: 348 X 250 pixels
OS Platform: Proprietary OS
Processor: ARM Cortex 120MHz
RAM & Storage: 2.5 GB
Battery Cell Composition: Lithium-polymer
Battery Capacity: 4+ Days, 10+ hrs on GPS
Connectivity: WiFi antenna (802.11 b/g/n), Bluetooth 4.0
Additional Bands: Yes, Both Small and Large
Water Resistant: 165ft (50 meters) water-proofing (5ATM water-proof)
Box Contents: Smartwatch, Charging Cable, Warranty Card, User Manual
If you are looking for an ultimate fitness tracker, this would be the best choice for sure. With the appealing design, brand name, and awesome eco-systems of challenges, you will find it as your health doctor at any point.
Start your dynamic workouts by wearing them on your wrist with step-by-step training.
Fitbit Ionic GPS Smart Watch
5 new from $289.99
Free shipping
as of October 1, 2023 1:53 pm
Key Features of Fitbit Ionic Smartwatch
Aluminum case and lightweight compared to other smartwatches
Easy to swap out leather or plastic bands
Built-in GPS to track pace, distance and pulse continuously
Comfortable fit for a whole day and night
Both small and large bands are available
You can install multiple apps at a time
Cool design that fits easily in hands
Patented heart rate monitor
Compatible with Android Windows and iOS phones
Water-resistant at 50m
The Fitbit Ionic smartwatch is full of all essential features to keep you moving. Achieving your fitness goal wearing this fitness tracker becomes comfortable and convenient because the provided data is accurate and useful.
Now, let's look at the in-depth review.
Design
The Fitbit Ionic Smartwatch is convenient to wear and much lighter than other modern smartwatches. It is so lightweight that you will not face any unpleasant feeling or obstacle while wearing it or working out. Even you will feel comfortable with the keyword.
If you want to wear it every day, don't hesitate, wear it. In fact, wearing it for a whole day, the timer will provide more accurate data. Being a water-proof smartwatch, you can go swimming or shower without any hesitation. This is quite an outstanding benefit.
Aluminum is used to construct the watch body, and at the side, it comes to a small antenna. It is eye-catching, elegant, and stylish, making it the best-looking smartwatch of Fitbit so far. The design makes it wearable in the office, meetings, occasions, trips, etc., wherever you require.
You will find 1 hardware button on the left side and 2 buttons on the left, allowing you to get access to the smartphone UI. Moreover, all buttons are slightly raised too. As a result, you can find the buttons easily, and these buttons make the UI straightforward. More importantly, the fitness tracker has a touchscreen, lets you control the apps by swiping it.
Another great feature is the plastic or leather strap option, which confirms the secure fastening of the smartwatch. Thus, it will never fall off when jogging. Both strap options have different benefits. The plastic option is suitable for sweating in the gym, while leather gives a more attractive look. This way, you are allowed to wear it to dinner or jogging.
Display
The full-color screen comes with a rectangular shape, while most smartwatches have a square or round shape. It is quite big, and the bezel is thick enough.
Additionally, reading the screen is also effortless since the LCD screen is 384 x 250 pixels and bright. Under low light conditions, you will never face trouble getting essential data and information.
The touchscreen is also swift and responsive enough that acts quickly according to your requirement.
Fitness Tracker
The fitness features of the Fitbit Ionic smartwatch will amaze you the most. Like all other Fitbit watches, it also consists of all the necessary fitness features and a few upgraded elements.
Heart rate tracker is more accurate than other models of Fitbit, according to the manufacturers. Behind the screens, it has shiny new algorithms that accurately sense heart rate when jogging, sleeping, or doing other things.
Its response rate is much quicker than other Fitbit timepieces too. This makes it much helpful in working out, and after monitoring your heart rate, it uses the data to show you the heart status through its workout app.
Plus, the built-in GPS ensures better tracking. The timepiece may take time to get connected to the GPS, but the connection will never get disconnected when running or walking. This is beneficial during a long trip.
The new feature in this timer is the automatic pause option. It will get paused automatically when you stopped at the traffic light and restart promptly when you start jogging again.
You will also love to know; the watch has a built-in tailored workout in its Fitbit Coach feature. This will guide you to stay active all the time such as, what you need to do, and after accomplishing it, provide feedback which will help the feature to determine whether you need a harder or easier workout next time.
The prime goal of this feature is to assist you in improving your fitness and encourage you to continue exercising by providing different exercise types.
Performance
With 2.5GB of memory, you can upload around 300 songs according to your choice. In order to give you much pleasure on the go, connect Bluetooth headphones. With this feature, your long trips and exercising sessions will be much more memorable and enjoyable.
Many of us keep our smartphones switched off when attending a meeting. Now, wearing this device, you don't need to do this, simply turn the sound off your smartphone and get notifications of your phone calls, texts, and e-mail in this watch. Fitbit's 5 customized quick reply options are Yes; No; Can't talk now; Sounds good! What's up? will reply later; it is compatible with Android users only. iPhone and Windows users have to wait to get this option on their smartphones.
Generally, when setting up a workout, other smartwatches get crashed. The good news is, this fitness tracker will rarely crash. You will get consistent and accurate data of exercising sessions from it.
Its water-proof performance is also amazing. The watch shows accurate data up to 50m and remains active as well.
Battery Life
While testing, we found that, Fitbit Ionic timepiece lasts 4 – 5 days when used limitedly. If you do many workouts wearing this device, the battery life will reduce, and it will hit harder when GPS tracking is used continuously.
Fitbit expresses that it will last long up to 10 hours of continuous GPS tracking. This lifespan is good enough that quite similar to other standard smartwatches.
A magnetic charger cord comes with an Ionic watch. As a result, it is effortless to charge with the magnetic connection in the back of the watch.
Apps and Compatibility
The FB Ionic will perform combined with the Fitbit app on your phone. Moreover, the app is compatible with Android, iOS, and Windows devices. Furthermore, the watch has its own watch gallery. Be noted that it is not an app store that also comes with Fitbit's own services and the 3rd party app.
You can use a wide range of watch faces from the Fitbit app, and good choices are available. FB is continuously expanding its app, although many options are available.
Is the Fitbit Ionic Any Good?
The FB Ionic is still a better option than other smartwatches. However, it also has benefits and drawbacks. Let's figure them out.
What did we like most?
4+ days of battery life
Always-on heart rate
Comfy fit
Water-proof
Built-in GPS
On-wrist payments
Multiple watch faces
Expanding app store
Sleep-apnea alerts
What could be better?
A bit slow when setting up the exercising data
Controversial design
Available with less number of apps
Final Thoughts
Fitbit Ionic Smartwatch is an excellent choice for Fitbit fans because it has a few upgraded features than the earlier models, like expanded NFC capabilities and different health features.
After owning this timepiece, the concept of a smartwatch will undoubtedly change your mind. The Ionic is a gold standard in terms of fitness tracking with its all impressive fitness features.
Hopefully, this Fitbit Ionic smartwatch review will help you to grab this watch by removing all your confusion regarding it. Next, start seeing yourself caring much more about your overall well-being.
As an Amazon Associate, I earn from qualifying purchases.