Ticwatch C2 Plus Review | A Groundbreaking Smartwatch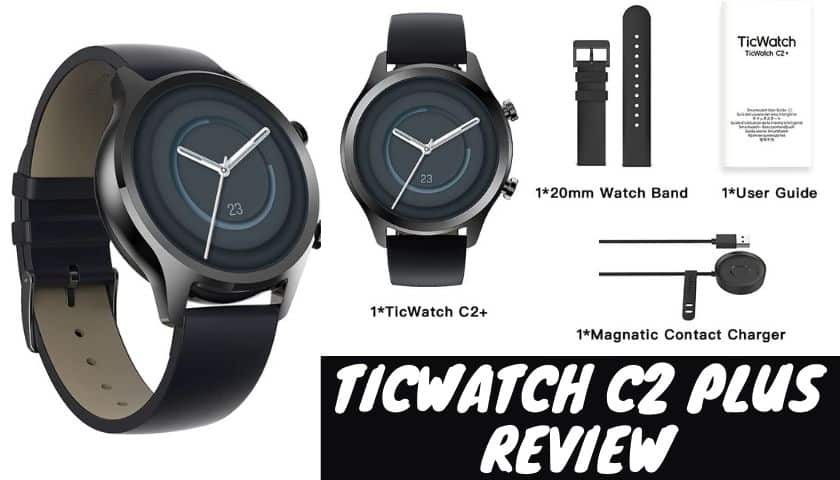 As an Amazon Associate, I earn from qualifying purchases.
In recent times, most people look for a versatile smartwatch that helps in improving their fitness along with elegant design and accurate timing. The Mobvoi Ticwatch C2 Plus is an ideal timepiece that offers both versatility and reliability. It comes with a patented 24-hour heart monitor and GPS. At the same time, it is very accurate that you will not be late for your exam hall or meeting.
However, this timer has many other features that make it a value for the money product. We will look into the benefits of those features in this Ticwatch C2 Plus review.
Mobvoi Ticwatch C2 Plus Review | Why Should You Buy This
The worth-mentioning feature of this smartwatch is, it is much more user-friendly than its competitor. Moreover, the results it provides are so accurate that gaining your expected fitness becomes much more convenient.
Keep scrolling down to learn more about its specification.
Technical Specifications & Details
Product Dimension: 42.8mm x 42.8mm x 12.7mm
Display: 1.39"
Phone Compatibility: Android™, iPhone
Supported Application: GPS
Operating System: Wear OS by Google
Platform: Qualcomm® Snapdragon Wear™ 2100
GPS: GPS + GLONASS + Beidou
Water Resistance: Water-proof
Water-proof rating: IP68
Battery Cell Composition: Lithium-Ion
Battery Capacity: 4000mAh (up to 2 days)
Charge Time: 100 minutes
Memory: 1GB RAM; 4GB ROM
Sensors: Accelerometer, gyroscope, heart-rate sensor
Connectivity: Bluetooth v4.1, WiFi 802.11 b/g/n
Additional Straps: Yes
This timer is an upgraded version of Ticwatch C2 from the manufacturer Mobvoi. You might be curious to know more about this timepiece. But, first, let's take a closer look at the below bullet points.
Key Features of Ticwatch C2 Plus Watch
Stainless steel bezel
20mm genuine leather strap
It counts steps and calories
Monitors heart rate 24X7
Provides line chart and interval distribution of the heart rate
Notifies about abnormal heart rate
Built-in GPS
It supports swimming in shallow water
Made of durable and high-grade materials
Classic watch design
IP68 water and dust-proof
Fast charging and long battery life
With the above technical specifications and key features, it is proved that it is a smartwatch that promises to track your fitness efficiently. We shared an in-depth discussion of its key features in the next section.
Read next: Ticwatch Pro 3 GPS Smart Watch Review
Design and Display
Many customers appreciate the classic look of the Ticwatch C2+. In addition, the stainless steel watch case and 1.39" display will surely grab the attention of any customer. In fact, "the first impression is the best impression" – this saying perfectly goes with this smartwatch.
The backside of the watch is made of plastic and consists of the charging point and heartbeat sensor. Next, the case is attached to a 20mm silicone strap that can easily be removed using a small pin mechanism. Furthermore, it comes with additional silicone straps, offering benefits if the attached straps get damaged. More importantly, the main leather strap is convenient to clean, easy to wear, doesn't create any irritations or allergic reactions in hand.
It measures 42.8 x 42.8 x 12.7mm that perfectly fits on any wrist. The visibility is sharp, clear, and accurate. Its buttons are positioned at the side, which gives it a streamlined look. Unfortunately, this is a well-designed and well-built smartwatch that doesn't stir a variety of excitement in terms of design.
Similar to all other standard smartwatches, it is also water-proof featured. The watch remains active and accurate under freshwater for up to 1.5m and 30 minutes. Also, it withstands dust, dirt, and sand.
Performance
In order to provide significant software experience, the manufacturer Mobvoi uses Google's Wear Operating System. As a result, you can enjoy its feature after pairing the timepiece with an Android smartphone or iPhone.
All the necessary features such as fitness tracking, managing incoming calls, notifications, easy access to the Google Assistant, etc. are brought by the Wear OS in this smartwatch.
Additionally, it provides some extra apps to track your fitness and health, making your presence felt in the Mobvoi software with its smartwatch face. The watch face is pretty similar to an analog watch. But there are several digital face watch options available, including Google Fit Face. Also, you can go to the Google Play Store to download more.
This watch receives all the call, text, and calendar alerts near your phone. The more interesting thing is, it can send quick replies on Android only. Besides, it is equipped with 1GB RAM, and 4GB ROM makes it fast compared to other smartwatches. Generally, other smartwatches get slow over time. The good news is; you will get fast performance from this timepiece for a lifetime due to its high memory status.
Track Your Daily Activity
The Ticwatch C2 Plus tracks all the necessary data that is essential to keep a person fit. Its built-in sensor monitors continuous and workout-based heart rate data. Simultaneously, outdoor workouts are also well-covered by the GPS, GLONASS, and BeiDou satellite.
It monitors heart rate accurately for 24 hours and 7 days. You will also find a 7-days heart rate history saved in the watch. You will love to know that it notifies the abnormal status of your heart without making you late. Thus, prompt and proper medications can be taken.
Furthermore, you may want to swim wearing it, and the good news is that you can do it comfortably due to its IP68 water resistance feature.
Battery Life
In terms of charge time and battery life, the Ticwatch C2 Plus is a CHAMPION! This smartwatch is engineered with a 4000mAh Lithium-Ion battery, promised to offer 1-day and 2-day of battery with heavy and light usage, respectively.
Now you might be wondering what it means by heavy usage. When you switch on the GPS or continuously track down the heart rate, consider it as heavy use. If you do so, the battery will drain 15% within 40 minutes.
In addition, when the discussion comes about the charge time, be noted that it takes only 100 minutes to get fully charged. Thus, you don't need to put it in charge too frequently.
What did We like Most?
Sharp and bright display
Tracks your daily sleep time and steps
Preloaded sport mode
Accurate data of outdoor activities with the patented GPS tracker
Built-in microphone
Classy, glossy, and elegant design
Interchangeable straps
What Could Be Better?
The GPS tracker is a bit slow
Its charger is not a super snappy
Who Should Buy It?
If you want a stylish, classic smartwatch
For those who are fond of TicWatch software
If your budget is tight
Who Shouldn't Buy It?
It is unsuitable for those who spend many hours outside
Not an ideal one in terms of battery life
Read Related Post: Mobvoi TicWatch Pro 4G/LTE Smartwatch Review
Final Thoughts
The Ticwatch C2 Plus is a great smartwatch with additional features which play a vital role in the well-being of a person. There is a lot of promise by this timepiece, and it is true to its performance.
Hopefully, after reading this Ticwatch C2 Plus review, you can make a precise decision regarding buying this smartwatch. It is a must-needed timepiece for those who want to track down their fitness accurately with plenty of features.
As an Amazon Associate, I earn from qualifying purchases.