Fitbit Sense Advanced Smartwatch Review | Get the Perfect One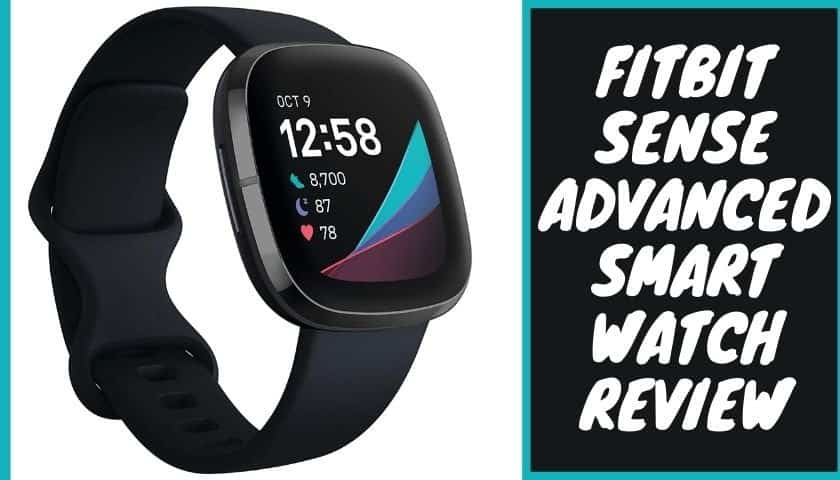 As an Amazon Associate, I earn from qualifying purchases.
A watch reflects our personality and style. In the past, watches were able to tell time, and some come with additional date features. But watches have enveloped quite a lot over these years, and now we are living in a world of smartwatches. Among hundreds of smartwatches, Fitbit sense advanced smartwatch is a physical workout-tracking watch.
The Fitbit sense not just tells time but also tells you a lot about your health condition. This smartwatch can help you take small steps towards a healthier lifestyle. It fits on the wrist greatly and the elegant design gives a stylish look as well.
Fitbit Sense Advanced Smartwatch is best for keeping track of basic health conditions.
So, let's deep dive to learn more information through this Fitbit Advanced Smartwatch Review.
Fitbit Sense Advanced Smartwatch Features
With all the outstanding features, Fitbit is focusing to challenge the Apple watch. It contains sensors for tracking stress, heart rate, sleep time, and many other data so that you can live a healthy life. The body of this watch is made of aluminum. Now let's look at the in-depth reviews of the Fitbit Sense Advanced Smartwatch from below.
Fitbit Sense Advanced Smartwatch
8 new from $198.95
3 used from $140.00
Free shipping
as of October 2, 2023 4:54 pm
Design
Its screen has a 1.58-inch display which cramps in a case of 40.5 mm. Also, its resolution is clear and crisp 336 x 336, so the user has no complaints about its quality. Its size is unisex. So any slim wristband or even wearing a Sense will not be a problem for them. There are straps for quick-change, so its look is straightforward to customize and a proprietary fit.
Stress and EDA
The feature of Fitbit Sense is the ability to track stress. It does this in two ways. First, it uses heart rate technology to give your daily stress score. It can also take a specific reading using an electrodermal activity sensor (EDA). What's more, the app contains guided EDA mindfulness sessions.
Stress Score Work following the below 3 parts:
Response of your heart
Your exercising schedule
Sleeping schedule
Remember, in order to get an accurate Stress Score, you need to wear this smartwatch for almost a whole day. If you won't wear the smartwatch for a large portion of the day, your stress score will be incorrect.
Temperature, Breathing rate, HRV
Fitbit sense shows an ample amount of data regarding your health. These data are available for premium users only.
During this Covid – 19 pandemic, learning about the health status is significantly essential. This smartwatch assists to learn about a person's healthy by sharing many data.
The Health Metrics Dashboard shows:
Human body temperature (also shown on the dashboard for non-premium).
Heart rate when resting (heart rate category for premium USER).
Heart rate variability, which is called HRV.
Measurement of respiratory rate.
Oxygen saturation when sleeping
So, when you get the above data through your smartphone, undoubtedly, you will be able to take the necessary steps beforehand. This way, serious health problems such as heart attack, diabetes can be taken care of on time.
Sleep Tracking
Get a breakdown of heart rate and oxygen changes during sleep with Fitbit Premium. However, it is susceptible and sees the effects of alcohol on the heart rate during sleep, which is an outstanding assurance.
Fitness and Sports Tracking
By now you have understood that Fitbit is a device that can hold large amounts of data. Tracking steps, calories, sleep time, heart rate, etc. with applause. This thing is suitable as a fitness and activity tracking device. You get GPS onboard, which allows you to track runs and cycles without a smartphone. And has two sports profiles on board. It gives accurate tracking of GPS, so it got a lot of good overviews in the FitBit app.
Its sensors capture everything from low to medium heart rate and even tempo runs.
Battery life
The best aspect of Fitbit Sense is 6 days' battery life. You can use it comfortably for five to six days by charging it once. This gets charged quickly, approx. 30% charge in 10 minutes, which will save a lot of time. There is no reason to worry about Fitbit Sense's battery because its battery is of excellent quality.
Pros
Excellent battery life
Sturdy construction
High-resolution, bright screen
Compact and slim design
stunning health tracking system
Supports voice assistant
Accurate GPS tracking
EDA sensor
Sleep tracking
Cons
No advance workout tracking
Monthly subscription needed to access some services
Fitbit Sense: How Easy to Wear It?
You will love to know that, Fitbit Sense is pretty straightforward to set up. The whole setup process will take only 1-hour.
It comes into a nice cuboid box and with the attached strap. The USB charger is packaged on the left side and another strap of a different size is placed on the right side. Two different size straps in an added benefit of the Fitbit Sense Advanced Smartwatch.
You can easily use the charger without much of a hassle. Although the setup process is not rocket science, you have to do some guesswork on your part when setting up this device.
Fitbit Sense: Is it Worth Buying?
Fitbit is a fitness-focused smartwatch, shares a lot of data about the progress and status of our health condition. If you need basic information about your health, don't look further, buy this Fitbit Smartwatch and monitor your progress of home workouts, sleep, heart rate, etc.
The Fitbit smartwatch is equipped with extensive cutting edge-technology that delivers accurate data on your health. It will be a worthy investment for those who want to track their fitness progress at an affordable price range.
Final Words
Hopefully, this review will help you to make a wise decision. The Fitbit since smartwatch plays a perfect role in health. For example, it is imperative to measure your blood oxygen, heart rhythm during COVID-19. It has an attractive design, a bright screen, and long battery life, making it even more popular.
As an Amazon Associate, I earn from qualifying purchases.