Samsung Galaxy Watch 3 vs Apple Watch 6 | Depth Comparison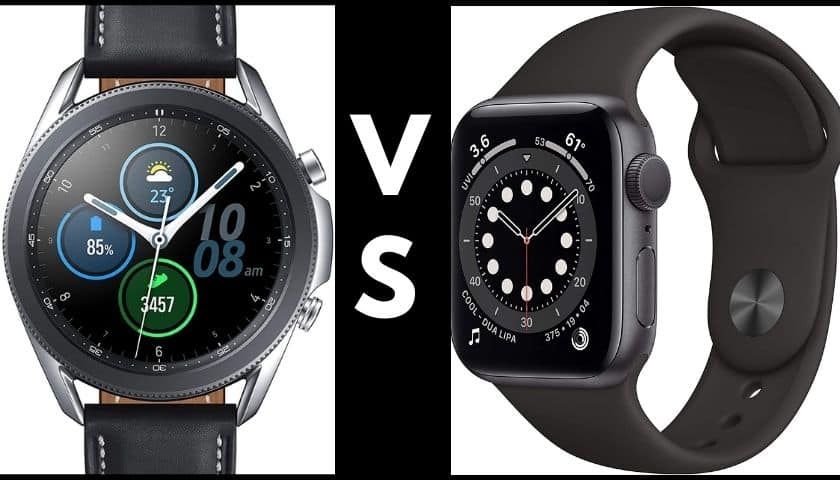 As an Amazon Associate, I earn from qualifying purchases.
Samsung galaxy watch 3 vs apple watch 6 is a revolution that happened to the phones, and it has a significant war regarding the waves that happened in the smartwatch world. Apple watches have a dominant place in the technological world, and Samsung is always taking the role of the best smartwatch.
Here we are displaying the review of the Samsung Galaxy Watch 3 and the Apple watch 6. This will define the latest additions they added for their collections, and let's find out which one plays a better role in the smartwatch world.
Samsung galaxy watch 3 Product Review
Model: Samsung galaxy watch 3
Product Brand: Samsung Electronics
Applications Supported: Heart Rate Monitor, Camera, GPS, Phone
Standard Wireless Communication: Bluetooth
Connectivity Technology: GPS, NFC, Wi-Fi, Bluetooth
Operating System: Tizen OS 5.5
Battery: 340 mAh Qi Non-removable wireless charging
Screen Size: 41
Input Method: Buttons & Touchscreen
Water Resistance: Water-Resistant
Apple Watch 6 Product Review
Model: Apple watch 6
Product Brand: Apple
Applications Supported: Heart Rate Monitor, Elevation Tracker, Assistant
Standard Wireless Communication: 2.4 GHz Radio Frequency, 802.11a/b/g/n, Bluetooth, 5 GHz Radio Frequency
Connectivity Technology: GPS, NFC, Wi-Fi, Bluetooth
Operating System: WatchOS
Battery Life: 18 hours
Screen Size: 40 mm
Input Method: Dial & Touchscreen
Water Resistance: Water-Resistant
Apple Watch Series 6 (GPS, 40mm) - Space Gray Aluminum Case with Black Sport Band (Renewed)
13 new from $208.60
8 used from $169.99
Free shipping
as of October 2, 2023 5:12 am
Apple Watch 6 vs Samsung Galaxy Watch 3 Detailed Description
It needs a lot of testing and detailed investigations to check both strengths and weaknesses. Both of the models arrived in the competitive market with refreshing features, the latest software, and attractive designs. So each holds different values for them.
We need to find out what watch is coming with valuable features to deal with emails and messages, notifications, and our interests in music. So here is our detailed description of each design, feature, and more.
Design and the Sizes
One of the most extensive noticeable features of these two models is their shape. One comes in a square shape, and the other comes in a round shape. What is coming under round shape is Samsung. Although Samsung Electronics made many square-shaped smartwatches in previous years, they now came into a round shape decision.
Both watch designs are built with high-quality materials, and there is no doubt about their quality. Material on both watches fits great into someone's wrist when they wear them, and they look so much differently in unique for the wrist.
Apple watch has two sizes for the cases and 40mm and 44mm. You are getting a display of touchscreen with this, and there is also a physical button in there. The Digital crow of the watch is indicating the navigation through the OS of the apple watch.
Our Samsung Galaxy 3 watch is in size of 41mm and 45mm from their cases. So compared to the apple watch, it is a little bigger than their options. There is a touchscreen option in Samsung galaxy watch 3 as well, and instead of having one button, this has two buttons for the best rotating bezel.
Material, Bands and Models
Material is different for both watches, and the apple watch has titanium or stainless steel with aluminum. And the Samsung galaxy 3 comes in titanium with stainless steel option. Please note that the latter has a 45mm option only.
If you consider the materials over anything, you can consider those two as they come with different options.
Both of these watches have the same kind of materials that give the best feelings to the user, making the watch's appearance great. What completes their look is the bands. There are interchangeable bands for both apple and Samsung watches, and users can change them anytime they want.
The watchband plays a significant role in the total look of these two smartwatches, making them look less tech as a no9rmal watch. If we speak about the front of the watches, something is enlightened about the Apple 6 than the galaxy 3, but it doesn't mean that Samsung is terrible. It also has the most excellent front.
Collection for both watches has a strong companion, and they have equal solid third parties with them to support their bands. But we need to say that Samsung has many dresser options than Apple, and they impress their users with different options with third-party bands.
Needless to say, although Samsung has different options to offer, apple is the one who edges everything in the department.
Screens
Samsung Galaxy 3 and the Apple watch 6 both have the most significant screen within them, and those are the best smartwatch screens so far. There is an additional sharpness that comes with the Retina display of the Apple, and it stretches on the edges. So it generally creates a better look for the case and seems more impressive.
What comes with the Samsung galaxy 3 screen is an AMOLED display. It is more bright, sharp, and colorful compared to other smartwatches. You can see the watch screen without any interruption in the bright light, and visibility will not be corrupted.
There are display options in this watch to set up the battery life as well. Suppose you need an always-on display, no problem. Samsung Galaxy 3 gives you the option to impact the battery life for your enjoyment.
Editions
Several editions come under these two smartwatches in the market and what you get first is the LTE options and the Bluetooth. Those are equally coming to both watches, and there is an added connection to them with some extra cost.
You have to know that there is the same model for the Apple watch 6 available out there, and there will be Hermes and Nike's editions for this series with different types of bands and watch faces.
Samsung had a gold edition launched with their series, and it is under Armour edition for the cheapest galaxy watch. But there is no news for such an edition comes to this galaxy watch three and we cannot assure for a one to come at the market.
Water resistance capability
If you are a person who never takes off your smartwatch from you or who goes swimming with it, no problem, you can do it. These two watches have water resistance levels up to 50m depth, and those are well-safe for swimming.
You can even shower by wearing these two smartwatches. These watches offer the same pool options and also swim tracking as well.
Features
Both Samsung and Apple have a fair duty done to the smartwatch features, and they did a great job on it.
Apple watch has a watch OS operating system that runs with the software very well. It handles the notifications cleanly, and it is a must to say that Apple Watch 6 has a perfect ecosystem with the rich apps than Samsung. So it will hold a great fit to the overall watch usage.
Samsung has the Tizen OS as its operating system, and it makes excellent usage for the watch with the support of a rotating bezel. You will experience clean usage with this watch, and you can get used to the watch very quickly.
Some enjoyable features come within Samsung galaxy 3 than Apple's as offline Spotify playlist and a mixture of watch faces. There are no more complicated options for the payments, and both of the watches have more straightforward options for payment.
Sports and the Fitness Tracker
For those who love to be in good shape and be active with the lifestyle, both the Apple and the Samsung watch have done a fair job. They offer plenty of options for the users to fulfill their desires.
You can record your running, swimming, and everything you do between them with a 24/7 tracker for the activities. Users can make their smartwatch a fitness tracker in both designs, and those will meet your needs in the overall best options.
Apple has activity rings within it to keep the track of the progress of activities for the users. It is stronger on its sleep tracking options, and there is a native sleep tracker in Apple watch 6.
Samsung Galaxy Watch 3 also matches the fitness features on apple, and it helps users track their steps, cover the distance, and many tacking staples. This watch can recognize you automatically when there is a walk done in well. There will also be a widget with an activity rings style to calculate the progress as well.
Samsung has better options for the frequent motivations of users, and it can suggest the exercises. If we talk about the sleeping monitors of Samsung, it keeps getting better and currently improving.
Health Monitor
Both Apple and Samsung have become more valuable due to the health monitor for serious health issues. It provides a way to access the data for underlying uses to detect, and two watches have done their job to ramp their health features in the watch.
There is an ECG sensor with an Apple Watch 6, and it can detect the signs of atrial fibrillations. His feature comes in the Samsung Galaxy Watch 3 as well. ECG of the apple is more approved within so many countries.
A blood pressure monitor comes in the Samsung Galaxy 3, and it doesn't come in the Apple series. This blood pressure monitor can calculate the dedicated blood pressures and currently available in Korea.
Pros and Cons
Samsung Galaxy Watch 3 Pros
There is a beautiful display in it
Having a great battery life
Elegant look
A great look with a physical rotating bezel
Comfortable
Accuracy
Samsung Galaxy Watch 3 Cons
No significant improvements on hardware
A bit expensive
Apple Watch 6 Pros
Speediest new processor
The third-party app selection is great
Real-time elevation tracker
Accuracy in measuring the blood oxygen saturation
Attractive colours and band variations
Apple Watch 6 Cons
A bit expensive
Limited improvements for battery life
You can also read: Garmin Venu vs Vivoactive 4 Review
Are Samsung Galaxy 3 and Apple Watch 6 worthy of it?
Yes, they are. When comparing their innovative features and attractive designs, these two are much worthy for buying, and there are now fewer demands for a single. Bot Samsung and Apple do a great job on these two series, and there is no such thing to say them as a low.
If there is an iPhone user, it is good to complete the features with your Apple watch 6. And if you own an Android, you can take solid care features of a smartwatch by a Samsung galaxy watch 3.
Conclusion
The smartwatch world is constantly changing, and many innovations came to the market with Apple and Samsung. Based on your using phone, these two smartwatch series will do a fair job and consider their main features to get in touch with the new technological world.
As an Amazon Associate, I earn from qualifying purchases.